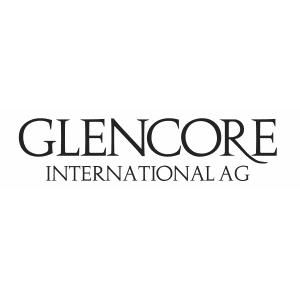 Glencore plc (OTCMKTS:GLNCY – Get Free Report) saw a large drop in short interest during the month of August. As of August 31st, there was short interest totalling 209,700 shares, a drop of 16.5% from the August 15th total of 251,100 shares. Based on an average daily trading volume, of 989,100 shares, the days-to-cover ratio is presently 0.2 days.
Glencore Stock Up 0.7 %
Shares of GLNCY stock traded up $0.08 during trading on Tuesday, hitting $11.40. The company had a trading volume of 855,682 shares, compared to its average volume of 652,789. The stock's 50-day moving average price is $11.30 and its 200 day moving average price is $11.27. Glencore has a one year low of $9.63 and a one year high of $14.41. The company has a current ratio of 1.30, a quick ratio of 0.67 and a debt-to-equity ratio of 0.46.
Glencore Increases Dividend
The business also recently announced a dividend, which will be paid on Friday, October 6th. Stockholders of record on Friday, September 1st will be given a dividend of $0.55 per share. This is an increase from Glencore's previous dividend of $0.39. The ex-dividend date of this dividend is Thursday, August 31st.
Wall Street Analyst Weigh In
A number of research analysts recently commented on the stock. Morgan Stanley decreased their price target on shares of Glencore from GBX 560 ($6.94) to GBX 550 ($6.81) in a research note on Tuesday, July 25th. Deutsche Bank Aktiengesellschaft lowered their target price on Glencore from GBX 575 ($7.12) to GBX 560 ($6.94) in a research note on Monday, June 5th. Credit Suisse Group reduced their price target on Glencore from GBX 525 ($6.50) to GBX 500 ($6.19) in a research note on Wednesday, August 9th. Finally, HSBC cut Glencore from a "buy" rating to a "hold" rating in a research report on Wednesday, July 26th. One analyst has rated the stock with a hold rating and four have issued a buy rating to the stock. Based on data from MarketBeat, Glencore has an average rating of "Moderate Buy" and a consensus price target of $569.00.
View Our Latest Stock Report on GLNCY
Glencore Company Profile
Glencore plc engages in the production, refinement, processing, storage, transport, and marketing of metals and minerals, and energy products in the Americas, Europe, Asia, Africa, and Oceania. It operates through two segments: Marketing Activities and Industrial Activities. The company engages in production and marketing copper, cobalt, nickel, zinc, lead, chrome ore, ferrochrome, vanadium, aluminum, alumina, and iron ore; and coal, crude oil, refined products, and natural gas, as well as oil exploration/production and refining/distribution.
See Also
Receive News & Ratings for Glencore Daily - Enter your email address below to receive a concise daily summary of the latest news and analysts' ratings for Glencore and related companies with MarketBeat.com's FREE daily email newsletter.