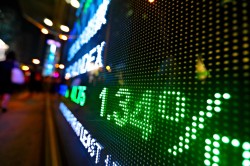 ValuEngine upgraded shares of Senmiao Technology (NASDAQ:AIHS) from a hold rating to a buy rating in a research note published on Wednesday morning, ValuEngine reports.
NASDAQ AIHS opened at $1.41 on Wednesday. Senmiao Technology has a 52 week low of $0.26 and a 52 week high of $2.35. The business has a 50 day moving average price of $0.61 and a 200-day moving average price of $0.53. The company has a debt-to-equity ratio of 0.01, a quick ratio of 1.19 and a current ratio of 1.39.
Senmiao Technology Company Profile
Senmiao Technology Limited, through its interest in Sichuan Senmiao Ronglian Technology Co, Ltd., operates an online lending platform connecting Chinese investors with individual and small- to-medium-sized enterprise borrowers in China. Its platform offers access to credit to borrowers and creditors, and investment returns for investors.
Featured Article: Why Dividend Stocks May Be Right for You

To view ValuEngine's full report, visit ValuEngine's official website.
Receive News & Ratings for Senmiao Technology Daily - Enter your email address below to receive a concise daily summary of the latest news and analysts' ratings for Senmiao Technology and related companies with MarketBeat.com's FREE daily email newsletter.