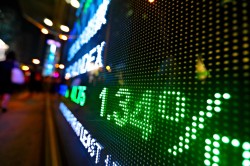 Premier Miton Group (LON:PMI) had its target price increased by Liberum Capital from GBX 152 ($1.87) to GBX 157 ($1.93) in a report published on Thursday morning, ThisIsMoney.Co.Uk reports. Liberum Capital currently has a buy rating on the stock.
The company's 50 day moving average price is GBX 105.64 and its 200-day moving average price is GBX 127.93. The company has a quick ratio of 1.28, a current ratio of 1.28 and a debt-to-equity ratio of 2.59. The firm has a market capitalization of $168.97 million and a price-to-earnings ratio of 14.91. Premier Miton Group has a 12 month low of GBX 65 ($0.80) and a 12 month high of GBX 195 ($2.40).
In related news, insider Piers Godfrey Harrison acquired 1,855 shares of the business's stock in a transaction that occurred on Monday, May 4th. The shares were bought at an average cost of GBX 97 ($1.19) per share, with a total value of £1,799.35 ($2,214.31).
Featured Article: How can investors benefit from after-hours trading?
Receive News & Ratings for Premier Miton Group Daily - Enter your email address below to receive a concise daily summary of the latest news and analysts' ratings for Premier Miton Group and related companies with MarketBeat.com's FREE daily email newsletter.