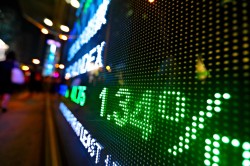 Highway Holdings Limited (NASDAQ:HIHO) saw a large drop in short interest in the month of June. As of June 30th, there was short interest totalling 800 shares, a drop of 60.0% from the June 15th total of 2,000 shares. Based on an average trading volume of 27,500 shares, the short-interest ratio is presently 0.0 days. Currently, 0.0% of the shares of the company are short sold.
An institutional investor recently raised its position in Highway stock. Renaissance Technologies LLC boosted its position in shares of Highway Holdings Limited (NASDAQ:HIHO) by 3.2% during the fourth quarter, according to the company in its most recent filing with the Securities and Exchange Commission. The firm owned 193,627 shares of the industrial products company's stock after acquiring an additional 6,000 shares during the period. Renaissance Technologies LLC owned 5.09% of Highway worth $314,000 at the end of the most recent quarter. 6.18% of the stock is owned by institutional investors.
NASDAQ HIHO remained flat at $$2.29 on Friday. 34,804 shares of the company's stock were exchanged, compared to its average volume of 95,120. Highway has a 12 month low of $1.55 and a 12 month high of $3.98. The firm's 50 day moving average price is $2.15 and its 200-day moving average price is $1.97. The company has a current ratio of 2.50, a quick ratio of 2.08 and a debt-to-equity ratio of 0.02.
Separately, ValuEngine upgraded shares of Highway from a "sell" rating to a "hold" rating in a research note on Tuesday, June 30th.
Highway Company Profile
Highway Holdings Limited, through its subsidiaries, manufactures and supplies metal, plastic, electric, and electronic components, subassemblies, and finished products for original equipment manufacturers (OEM) and contract manufacturers. The company operates in two segments, Metal Stamping and Mechanical OEM, and Electric OEM.
Further Reading: Street Name
Receive News & Ratings for Highway Daily - Enter your email address below to receive a concise daily summary of the latest news and analysts' ratings for Highway and related companies with MarketBeat.com's FREE daily email newsletter.