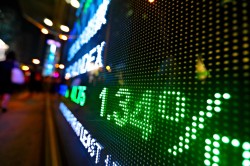 IQGeo Group PLC (LON:IQG) insider Max Royde bought 100,000 shares of the company's stock in a transaction dated Thursday, December 5th. The stock was bought at an average cost of GBX 53 ($0.69) per share, with a total value of £53,000 ($69,253.89).
IQG opened at GBX 53.50 ($0.70) on Friday. The company's 50 day moving average is GBX 45.49 and its 200-day moving average is GBX 44.20. IQGeo Group PLC has a 1-year low of GBX 38 ($0.50) and a 1-year high of GBX 70 ($0.91).
See Also: What is a CD ladder?
Receive News & Ratings for IQGeo Group Daily - Enter your email address below to receive a concise daily summary of the latest news and analysts' ratings for IQGeo Group and related companies with MarketBeat.com's FREE daily email newsletter.