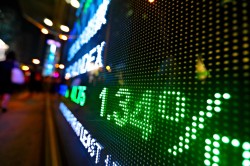 Shares of Woolworths Group Ltd (OTCMKTS:WOLWF) fell 3.9% during trading on Thursday . The stock traded as low as $25.80 and last traded at $25.80, 338 shares were traded during trading. A decline of 53% from the average session volume of 712 shares. The stock had previously closed at $26.86.
Separately, JPMorgan Chase & Co. lowered Woolworths Group from an "overweight" rating to a "neutral" rating in a research report on Thursday, September 19th.
The business has a fifty day moving average price of $26.10 and a two-hundred day moving average price of $24.50.
About Woolworths Group (OTCMKTS:WOLWF)
Woolworths Group Limited operates retail stores. It operates through Australian Food, New Zealand Food, Endeavour Drinks, BIG W, Hotels, and Other segments. The Australian Food segment engages in the procurement and resale of food products to customers in Australia. It operates 1,008 Woolworths supermarkets and Metro stores.
See Also: Stock Symbol
Receive News & Ratings for Woolworths Group Daily - Enter your email address below to receive a concise daily summary of the latest news and analysts' ratings for Woolworths Group and related companies with MarketBeat.com's FREE daily email newsletter.