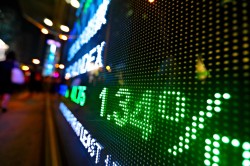 OFS Credit Company Inc (NASDAQ:OCCI) announced a dividend on Thursday, October 10th, Fidelity reports. Investors of record on Friday, November 22nd will be given a dividend of 0.17 per share on Friday, November 29th. The ex-dividend date of this dividend is Thursday, November 21st.
Shares of OFS Credit stock traded down $0.17 during trading hours on Tuesday, hitting $16.71. 404 shares of the company's stock traded hands, compared to its average volume of 17,547. OFS Credit has a 12-month low of $13.75 and a 12-month high of $19.00. The company has a fifty day simple moving average of $17.02 and a 200-day simple moving average of $17.34.
Separately, Zacks Investment Research lowered OFS Credit from a "strong-buy" rating to a "hold" rating in a research report on Tuesday.
OFS Credit Company Profile
OFS Credit Company, Inc is a fund of OFS Advisor.
Further Reading: 52-Week High/Low Prices For Stock Selection
Receive News & Ratings for OFS Credit Daily - Enter your email address below to receive a concise daily summary of the latest news and analysts' ratings for OFS Credit and related companies with MarketBeat.com's FREE daily email newsletter.