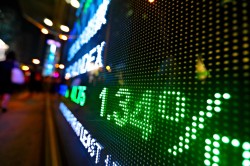 Holders Technology plc (LON:HDT) crossed above its 200-day moving average during trading on Friday . The stock has a 200-day moving average of $42.32 and traded as high as $40.00. Holders Technology shares last traded at $40.00, with a volume of 0 shares.
The company has a fifty day simple moving average of GBX 43.95 and a two-hundred day simple moving average of GBX 42.32. The company has a market cap of $1.69 million and a PE ratio of 10.81.
The business also recently declared a dividend, which will be paid on Tuesday, October 8th. Shareholders of record on Thursday, September 12th will be issued a dividend of GBX 0.25 ($0.00) per share. The ex-dividend date of this dividend is Thursday, September 12th. This represents a yield of 0.63%. Holders Technology's dividend payout ratio (DPR) is 0.27%.
Holders Technology Company Profile (LON:HDT)
Holders Technology plc, together with its subsidiaries, distributes special laminates and materials, equipment, and supplies for printed circuit board (PCB) industry in the United Kingdom, Germany, and internationally. It operates through PCB and LED segments. The company also distributes LED-related components, and lighting products and lighting solutions for the lighting industry.
Recommended Story: How are capital gains distributions different for tax-deferred account?
Receive News & Ratings for Holders Technology Daily - Enter your email address below to receive a concise daily summary of the latest news and analysts' ratings for Holders Technology and related companies with MarketBeat.com's FREE daily email newsletter.