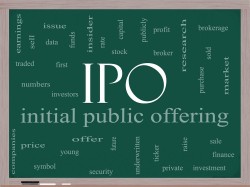 Linx S.A. (LINX) plans to raise $254 million in an initial public offering on Wednesday, June 26th, IPO Scoop reports. The company plans to issue 29,300,000 shares at a price of $8.68 per share.
In the last twelve months, Linx S.A. generated $177.1 million in revenue and $15.5 million in net income.
Goldman Sachs, Morgan Stanley, Jefferies, BofA Merrill Lynch and Itaú BBA acted as the underwriters for the IPO.
Linx S.A. provided the following description of their company for its IPO: "(Note a public offering: "Our common shares are listed on the Novo Mercado segment of the B3 S.A. — Brasil, Bolsa, Balcão, or the B3, under the symbol "LINX3." The closing price of our common shares on June 12, 2019 was R$33.38 per common share, which is equivalent to approximately US$8.68 based upon the exchange rate of R$3.8437 to US$1.00 reported by the Central Bank of Brazil (Banco Central do Brasil), or the Central Bank, on June 12, 2019, or US$8.68 per ADS after giving effect to the 1:1 common share: ADS ratio. See "Market Information." The price per common share and price per ADS in this offering will be determined based on the bookbuilding process and the closing price of our common shares on the B3 on the pricing date of the global offering.") We are a leading cloud-based technology company in Latin America and a market leader in Brazil in terms of revenue. We are focused on developing and providing affordable, easy-to-use, reliable and seamlessly integrated software solutions to retailers in Latin America, through our software-as-a-service, or SaaS, business model. During 2018, our subscription revenue accounted for 86.8%, or R$680.8 million, of our gross operating revenue, an increase of 15.5% over 2017 in reais. During the three-month period ended March 31, 2019, our subscription revenue accounted for 89.1%, or R$180.5 million, of our gross operating revenue, an increase of 11.1% over the corresponding period in 2018 in reais. With a comprehensive offering of solutions, we are an end-to-end service provider that offers business management tools, payment solutions, e-commerce and omni-channel applications through an integrated and ever-evolving platform to retailers of all sizes and capabilities. ".
Linx S.A. was founded in 2011 and has 3410 employees. The company is located at Avenida Doutora Ruth Cardoso, 7,221, São Paulo — SP, 05425-902, Brazil and can be reached via phone at +55 (11) 2103-1575 or on the web at http://www.linx.com.br.
Receive News & Ratings for Linx S.A. Daily - Enter your email address below to receive a concise daily summary of the latest news and analysts' ratings for Linx S.A. and related companies with MarketBeat.com's FREE daily email newsletter.