Washington Prime Group Inc (NYSE:WPG) announced a quarterly dividend on Friday, May 17th, Wall Street Journal reports. Investors of record on Monday, June 3rd will be given a dividend of 0.25 per share by the real estate investment trust on Monday, June 17th. This represents a $1.00 annualized dividend and a dividend yield of 20.49%. The ex-dividend date is Friday, May 31st.
Washington Prime Group has increased its dividend by an average of 10.1% annually over the last three years. Washington Prime Group has a dividend payout ratio of 66.2% indicating that its dividend is sufficiently covered by earnings. Research analysts expect Washington Prime Group to earn $1.17 per share next year, which means the company should continue to be able to cover its $1.00 annual dividend with an expected future payout ratio of 85.5%.
Shares of WPG stock traded up $0.03 on Friday, hitting $4.88. 2,184,307 shares of the stock traded hands, compared to its average volume of 2,540,202. The company has a current ratio of 0.51, a quick ratio of 0.51 and a debt-to-equity ratio of 3.40. The firm has a market cap of $904.53 million, a P/E ratio of 3.23 and a beta of 1.01. Washington Prime Group has a 1-year low of $4.23 and a 1-year high of $8.44.
Washington Prime Group (NYSE:WPG) last posted its quarterly earnings results on Wednesday, April 24th. The real estate investment trust reported ($0.03) earnings per share (EPS) for the quarter, missing the Thomson Reuters' consensus estimate of $0.29 by ($0.32). The firm had revenue of $168.82 million for the quarter, compared to analyst estimates of $169.27 million. Washington Prime Group had a net margin of 9.96% and a return on equity of 7.53%. The business's revenue was down 4.6% on a year-over-year basis. During the same period in the prior year, the company posted $0.39 earnings per share. On average, research analysts forecast that Washington Prime Group will post 1.2 EPS for the current fiscal year.
Several equities research analysts recently issued reports on WPG shares. TheStreet raised Washington Prime Group from a "d+" rating to a "c" rating in a research report on Thursday, March 7th. Zacks Investment Research upgraded Washington Prime Group from a "sell" rating to a "hold" rating in a research note on Saturday, March 2nd. Finally, ValuEngine upgraded Washington Prime Group from a "sell" rating to a "hold" rating in a research note on Thursday, April 18th. Four research analysts have rated the stock with a sell rating, The stock has an average rating of "Sell" and an average price target of $4.75.
In related news, SVP Joshua Lindimore sold 5,116 shares of the company's stock in a transaction on Tuesday, February 26th. The stock was sold at an average price of $5.75, for a total transaction of $29,417.00. Following the completion of the transaction, the senior vice president now directly owns 18,920 shares in the company, valued at approximately $108,790. The sale was disclosed in a document filed with the SEC, which is available through this link. Also, CEO Louis G. Conforti acquired 22,500 shares of the stock in a transaction that occurred on Wednesday, May 1st. The shares were bought at an average price of $4.55 per share, with a total value of $102,375.00. The disclosure for this purchase can be found here. Over the last 90 days, insiders have sold 17,129 shares of company stock valued at $98,010. 0.72% of the stock is owned by company insiders.
COPYRIGHT VIOLATION NOTICE: This story was originally reported by Stock Observer and is the sole property of of Stock Observer. If you are reading this story on another publication, it was stolen and republished in violation of United States & international trademark & copyright laws. The correct version of this story can be accessed at https://www.thestockobserver.com/2019/05/17/washington-prime-group-inc-wpg-declares-quarterly-dividend-of-0-25.html.
About Washington Prime Group
Washington Prime Group Inc is a retail REIT and a recognized leader in the ownership, management, acquisition and development of retail properties. The Company combines a national real estate portfolio with an investment grade balance sheet, leveraging its expertise across the entire shopping center sector to increase cash flow through rigorous management of assets and provide new opportunities to retailers looking for growth throughout the U.S.
Further Reading: How is the S&P 500 index different from the DJIA?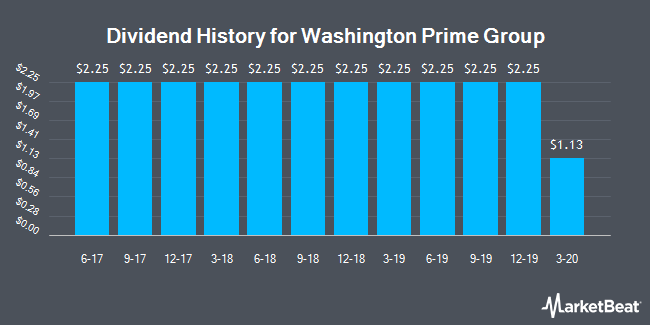 Receive News & Ratings for Washington Prime Group Daily - Enter your email address below to receive a concise daily summary of the latest news and analysts' ratings for Washington Prime Group and related companies with MarketBeat.com's FREE daily email newsletter.