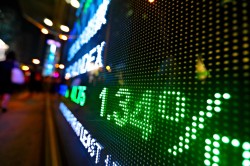 Moelis Australia Ltd (ASX:MOE) shares hit a new 52-week low during mid-day trading on Thursday after an insider sold shares in the company. The stock traded as low as A$3.97 ($2.82) and last traded at A$3.97 ($2.82), with a volume of 50734 shares trading hands. The stock had previously closed at A$3.99 ($2.83).
Specifically, insider Ken (Kenneth) Moelis sold 5,000,000 shares of the firm's stock in a transaction dated Wednesday, April 10th. The shares were sold at an average price of A$4.20 ($2.98), for a total value of A$21,000,000.00 ($14,893,617.02). Also, insider Andrew Pridham sold 81,350 shares of the firm's stock in a transaction dated Wednesday, February 20th. The shares were sold at an average price of A$5.05 ($3.58), for a total transaction of A$410,817.50 ($291,359.93). Insiders sold a total of 5,170,441 shares of company stock worth $21,787,710 over the last 90 days.
The company has a market capitalization of $607.26 million and a P/E ratio of 21.34. The company has a debt-to-equity ratio of 34.32, a quick ratio of 4.44 and a current ratio of 4.49.
WARNING: This article was reported by Stock Observer and is owned by of Stock Observer. If you are accessing this article on another domain, it was illegally stolen and republished in violation of United States and international trademark and copyright laws. The original version of this article can be accessed at https://www.thestockobserver.com/2019/05/16/moelis-australia-moe-reaches-new-1-year-low-on-insider-selling.html.
About Moelis Australia (ASX:MOE)
Moelis Australia Limited, together with its subsidiaries, provides various financial services. It operates in two segments, Corporate Advisory and Equities; and Asset Management. The Corporate Advisory and Equities segment offers strategic and financial advisory services related to mergers and acquisitions; equity capital markets; debt markets; restructuring and recapitalizations; and situations advisory, as well as provides underwriting and institutional stockbroking services.
See Also: Insider Trading – What You Need to Know
Receive News & Ratings for Moelis Australia Daily - Enter your email address below to receive a concise daily summary of the latest news and analysts' ratings for Moelis Australia and related companies with MarketBeat.com's FREE daily email newsletter.