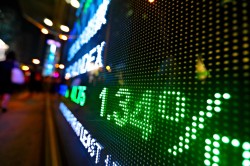 Shares of Milestone Pharmaceuticals Inc. (NASDAQ:MIST) reached a new 52-week high on Wednesday after an insider bought additional shares in the company. The company traded as high as $19.09 and last traded at $18.38, with a volume of 3298 shares trading hands. The stock had previously closed at $18.55.
Specifically, major shareholder Rtw Investments, Lp purchased 666,667 shares of the firm's stock in a transaction on Thursday, May 9th. The shares were acquired at an average price of $15.00 per share, for a total transaction of $10,000,005.00. The purchase was disclosed in a legal filing with the SEC, which can be accessed through this link. Also, major shareholder Holdings A/S Novo purchased 333,333 shares of the firm's stock in a transaction on Monday, May 13th. The stock was bought at an average price of $15.00 per share, for a total transaction of $4,999,995.00. The disclosure for this purchase can be found here.
TRADEMARK VIOLATION NOTICE: "Milestone Pharmaceuticals (MIST) Reaches New 52-Week High Following Insider Buying Activity" was published by Stock Observer and is owned by of Stock Observer. If you are viewing this story on another website, it was illegally copied and republished in violation of US & international copyright and trademark laws. The original version of this story can be read at https://www.thestockobserver.com/2019/05/16/milestone-pharmaceuticals-mist-reaches-new-52-week-high-following-insider-buying-activity.html.
Milestone Pharmaceuticals Company Profile (NASDAQ:MIST)
Milestone Pharmaceuticals Inc, a biopharmaceutical company, develops and commercializes drugs for the treatment of cardiovascular indications. It offers Etripamil that completed Phase 2 clinical trial for the treatment of paroxysmal supraventricular tachycardia in the United States and Canada, as well as for treating Atrial Fibrillation and Angina.
See Also: Should You Consider an Index Fund?
Receive News & Ratings for Milestone Pharmaceuticals Daily - Enter your email address below to receive a concise daily summary of the latest news and analysts' ratings for Milestone Pharmaceuticals and related companies with MarketBeat.com's FREE daily email newsletter.