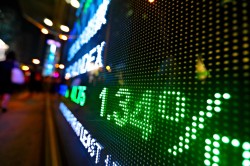 Medicure Inc. (CVE:MPH)'s share price hit a new 52-week low during trading on Thursday . The company traded as low as C$5.64 and last traded at C$5.91, with a volume of 4100 shares. The stock had previously closed at C$6.00.
The company has a market capitalization of $94.37 million and a P/E ratio of 25.00.
Medicure (CVE:MPH) last issued its quarterly earnings data on Monday, April 29th. The company reported C$0.09 EPS for the quarter. The business had revenue of C$7.90 million during the quarter. Equities analysts anticipate that Medicure Inc. will post 1.00999998521951 EPS for the current fiscal year.
COPYRIGHT VIOLATION WARNING: This piece was reported by Stock Observer and is owned by of Stock Observer. If you are viewing this piece on another publication, it was illegally stolen and republished in violation of U.S. and international copyright & trademark laws. The legal version of this piece can be read at https://www.thestockobserver.com/2019/05/16/medicure-mph-sets-new-52-week-low-at-5-64.html.
About Medicure (CVE:MPH)
Medicure Inc, a cardiovascular pharmaceutical company, engages in the research, clinical development, and commercialization of human therapeutics in Canada, the United States, and Barbados. The company primarily markets and sells AGGRASTAT injection, a glycoprotein GP IIb/IIIa receptor antagonist for the treatment of acute coronary syndrome, including unstable angina and non-Q-wave myocardial infarction, as well as AGGRASTAT high-dose bolus regimen for the reduction of thrombotic cardiovascular events in patients with non ST elevated acute coronary syndrome.
Featured Article: What is Elliott Wave theory?
Receive News & Ratings for Medicure Daily - Enter your email address below to receive a concise daily summary of the latest news and analysts' ratings for Medicure and related companies with MarketBeat.com's FREE daily email newsletter.