RSA Insurance Group (LON:RSA) had its target price decreased by stock analysts at Goldman Sachs Group from GBX 664 ($8.68) to GBX 641 ($8.38) in a research note issued on Friday, ThisIsMoney.Co.Uk reports. The brokerage currently has a "buy" rating on the insurance provider's stock. Goldman Sachs Group's price objective would indicate a potential upside of 21.77% from the stock's previous close.
RSA has been the topic of a number of other reports. Peel Hunt reaffirmed a "buy" rating on shares of RSA Insurance Group in a research note on Wednesday. Barclays boosted their price objective on RSA Insurance Group from GBX 584 ($7.63) to GBX 585 ($7.64) and gave the company an "overweight" rating in a report on Wednesday. Jefferies Financial Group upped their target price on RSA Insurance Group from GBX 606 ($7.92) to GBX 614 ($8.02) and gave the stock a "buy" rating in a research report on Tuesday, March 19th. UBS Group upgraded RSA Insurance Group to a "buy" rating and increased their target price for the stock from GBX 550 ($7.19) to GBX 600 ($7.84) in a report on Wednesday, March 6th. Finally, Royal Bank of Canada cut their target price on RSA Insurance Group from GBX 675 ($8.82) to GBX 650 ($8.49) and set an "outperform" rating on the stock in a report on Tuesday, March 5th. Five investment analysts have rated the stock with a hold rating and nine have assigned a buy rating to the company's stock. RSA Insurance Group presently has a consensus rating of "Buy" and an average price target of GBX 630.54 ($8.24).
Shares of LON RSA opened at GBX 526.40 ($6.88) on Friday. RSA Insurance Group has a 1-year low of GBX 490.40 ($6.41) and a 1-year high of GBX 683.40 ($8.93). The stock has a market cap of $5.37 billion and a PE ratio of 16.66. The company has a current ratio of 1.04, a quick ratio of 0.75 and a debt-to-equity ratio of 13.17.
RSA Insurance Group (LON:RSA) last released its quarterly earnings data on Thursday, February 28th. The insurance provider reported GBX 34.10 ($0.45) earnings per share (EPS) for the quarter, missing the Zacks' consensus estimate of GBX 37.40 ($0.49) by GBX (3.30) (($0.04)). Equities analysts anticipate that RSA Insurance Group will post 4943.00008550105 EPS for the current year.
About RSA Insurance Group
RSA Insurance Group plc, together with its subsidiaries, provides personal and commercial general insurance products. It operates through Scandinavia, Canada, and UK & International segments. The company offers a range of personal insurance products, including home, car, pet, and travel insurance products directly to its customers, as well as through brokers and agents.
See Also: Understanding Price to Earnings Ratio (PE)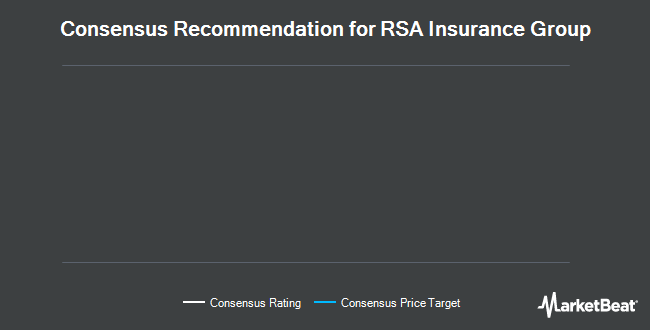 Receive News & Ratings for RSA Insurance Group Daily - Enter your email address below to receive a concise daily summary of the latest news and analysts' ratings for RSA Insurance Group and related companies with MarketBeat.com's FREE daily email newsletter.