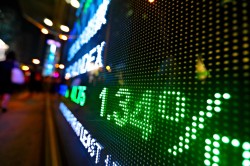 Funding Circle Holdings PLC (LON:FCH) shares fell 8.2% on Friday . The stock traded as low as GBX 308 ($4.02) and last traded at GBX 315 ($4.12). 324,554 shares traded hands during trading, an increase of ∞ from the average session volume of 0 shares. The stock had previously closed at GBX 343 ($4.48).
Several brokerages have recently weighed in on FCH. Barclays began coverage on shares of Funding Circle in a research note on Thursday, January 31st. They set an "equal weight" rating and a GBX 338 ($4.42) price target on the stock. Numis Securities restated a "buy" rating and issued a GBX 523 ($6.83) price objective on shares of Funding Circle in a research note on Wednesday, December 19th.
The firm has a market cap of $1.09 billion and a PE ratio of -17.31.
COPYRIGHT VIOLATION WARNING: This report was originally published by Stock Observer and is the property of of Stock Observer. If you are reading this report on another site, it was illegally copied and republished in violation of international copyright and trademark legislation. The correct version of this report can be read at https://www.thestockobserver.com/2019/04/07/funding-circle-fch-trading-down-8-2.html.
About Funding Circle (LON:FCH)
Funding Circle Holdings Limited, through its subsidiaries, provides online lending platforms in the United Kingdom, the United States, Germany, and the Netherlands. Its platforms allow investors, such as retail investors, banks, asset management companies, insurance companies, and government-backed entities and funds to provide business loans for small and medium sized businesses.
Featured Article: Yield Curve
Receive News & Ratings for Funding Circle Daily - Enter your email address below to receive a concise daily summary of the latest news and analysts' ratings for Funding Circle and related companies with MarketBeat.com's FREE daily email newsletter.