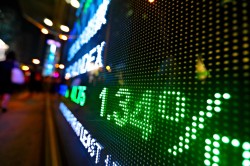 AstroNova Inc (NASDAQ:ALOT) has received an average broker rating score of 2.00 (Buy) from the one analysts that cover the company, Zacks Investment Research reports. One investment analyst has rated the stock with a buy recommendation.
Analysts have set a twelve-month consensus price target of $31.50 for the company, according to Zacks. Zacks has also assigned AstroNova an industry rank of 183 out of 255 based on the ratings given to related companies.
A number of research firms have commented on ALOT. Zacks Investment Research raised AstroNova from a "hold" rating to a "buy" rating and set a $21.00 price target for the company in a research report on Friday, March 8th. ValuEngine lowered AstroNova from a "buy" rating to a "hold" rating in a research report on Monday, April 1st.
Shares of ALOT stock traded up $0.49 during mid-day trading on Friday, reaching $24.22. The stock had a trading volume of 52,993 shares, compared to its average volume of 29,242. AstroNova has a 52-week low of $15.55 and a 52-week high of $24.86. The stock has a market capitalization of $164.99 million, a price-to-earnings ratio of 29.54, a PEG ratio of 2.08 and a beta of 0.21. The company has a current ratio of 2.73, a quick ratio of 1.44 and a debt-to-equity ratio of 0.21.
AstroNova (NASDAQ:ALOT) last posted its earnings results on Thursday, March 14th. The business services provider reported $0.33 earnings per share for the quarter, topping the Zacks' consensus estimate of $0.15 by $0.18. The company had revenue of $37.17 million during the quarter. AstroNova had a net margin of 4.19% and a return on equity of 8.80%. Equities analysts predict that AstroNova will post 0.95 EPS for the current year.
The business also recently declared a quarterly dividend, which was paid on Thursday, April 4th. Investors of record on Thursday, March 28th were issued a $0.07 dividend. This represents a $0.28 annualized dividend and a yield of 1.16%. The ex-dividend date of this dividend was Wednesday, March 27th. AstroNova's dividend payout ratio (DPR) is currently 34.15%.
A number of hedge funds and other institutional investors have recently modified their holdings of ALOT. Roubaix Capital LLC purchased a new stake in shares of AstroNova in the 1st quarter worth about $2,242,000. Boston Partners purchased a new position in shares of AstroNova during the fourth quarter valued at about $1,023,000. Vanguard Group Inc raised its stake in AstroNova by 8.7% in the third quarter. Vanguard Group Inc now owns 289,238 shares of the business services provider's stock worth $6,248,000 after buying an additional 23,155 shares in the last quarter. Quantum Capital Management bought a new position in AstroNova in the fourth quarter worth about $1,019,000. Finally, Dimensional Fund Advisors LP lifted its holdings in AstroNova by 3.3% in the third quarter. Dimensional Fund Advisors LP now owns 558,106 shares of the business services provider's stock worth $12,055,000 after buying an additional 17,898 shares during the period. Institutional investors and hedge funds own 57.90% of the company's stock.
AstroNova Company Profile
AstroNova, Inc designs, develops, manufactures, and sells specialty printers & data acquisition and analysis systems. It provides its services to aerospace, apparel, automotive, avionics, chemicals, computer peripherals, communications, distribution, food and beverage, general manufacturing, packaging and transportation industries.
Recommended Story: Stock Split
Get a free copy of the Zacks research report on AstroNova (ALOT)
For more information about research offerings from Zacks Investment Research, visit Zacks.com
Receive News & Ratings for AstroNova Daily - Enter your email address below to receive a concise daily summary of the latest news and analysts' ratings for AstroNova and related companies with MarketBeat.com's FREE daily email newsletter.