Invacare (NYSE:IVC) will be releasing its earnings data after the market closes on Wednesday, February 13th. Analysts expect Invacare to post earnings of ($0.39) per share for the quarter. Persons interested in registering for the company's earnings conference call can do so using this link.
Shares of IVC opened at $5.01 on Tuesday. The company has a debt-to-equity ratio of 0.68, a current ratio of 2.05 and a quick ratio of 1.34. The stock has a market capitalization of $167.66 million, a price-to-earnings ratio of -2.60 and a beta of 2.01. Invacare has a 52 week low of $3.05 and a 52 week high of $20.00.
The business also recently declared a quarterly dividend, which was paid on Thursday, January 17th. Shareholders of record on Friday, January 4th were given a $0.0125 dividend. This represents a $0.05 dividend on an annualized basis and a yield of 1.00%. The ex-dividend date of this dividend was Thursday, January 3rd. Invacare's payout ratio is -2.59%.
A number of brokerages have commented on IVC. ValuEngine upgraded Invacare from a "sell" rating to a "hold" rating in a research report on Tuesday, January 22nd. Needham & Company LLC began coverage on Invacare in a research report on Thursday, January 24th. They issued a "buy" rating and a $15.00 price target for the company. Finally, Zacks Investment Research cut Invacare from a "hold" rating to a "sell" rating in a research report on Wednesday, November 14th. Three equities research analysts have rated the stock with a hold rating and two have assigned a buy rating to the company. The company has a consensus rating of "Hold" and a consensus target price of $19.33.
In related news, VP Kathleen P. Leneghan purchased 6,500 shares of Invacare stock in a transaction on Tuesday, November 20th. The stock was acquired at an average price of $5.52 per share, for a total transaction of $35,880.00. Following the completion of the transaction, the vice president now directly owns 45,416 shares in the company, valued at approximately $250,696.32. The purchase was disclosed in a filing with the SEC, which is available at the SEC website. Also, Director Clifford D. Nastas acquired 9,000 shares of the company's stock in a transaction dated Monday, November 19th. The stock was acquired at an average cost of $5.42 per share, with a total value of $48,780.00. The disclosure for this purchase can be found here. Corporate insiders own 2.10% of the company's stock.
TRADEMARK VIOLATION WARNING: "Invacare (IVC) Set to Announce Earnings on Wednesday" was originally reported by Stock Observer and is the property of of Stock Observer. If you are reading this news story on another site, it was illegally stolen and republished in violation of United States and international trademark and copyright legislation. The original version of this news story can be read at https://www.thestockobserver.com/2019/02/12/invacare-ivc-set-to-announce-earnings-on-wednesday.html.
Invacare Company Profile
Invacare Corporation, together with its subsidiaries, designs, manufactures, distributes, and exports medical equipment for use in home health care, retail, and extended care markets worldwide. The company operates through four segments: North America/Home Medical Equipment, Institutional Products Group, Europe, and the Asia/Pacific.
Featured Story: Options Trading – What is a Straddle?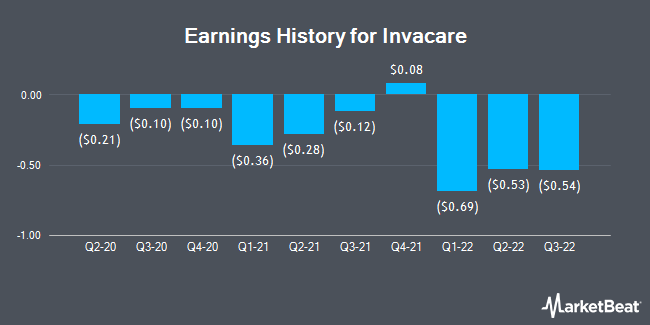 Receive News & Ratings for Invacare Daily - Enter your email address below to receive a concise daily summary of the latest news and analysts' ratings for Invacare and related companies with MarketBeat.com's FREE daily email newsletter.