ACCO Brands (NYSE:ACCO) will be issuing its quarterly earnings data before the market opens on Wednesday, February 13th. Analysts expect the company to announce earnings of $0.43 per share for the quarter. Parties that are interested in participating in the company's conference call can do so using this link.
NYSE ACCO opened at $8.93 on Tuesday. ACCO Brands has a 1-year low of $6.07 and a 1-year high of $14.63. The company has a debt-to-equity ratio of 1.28, a current ratio of 1.63 and a quick ratio of 1.03. The stock has a market capitalization of $900.00 million, a PE ratio of 7.50, a P/E/G ratio of 0.66 and a beta of 1.80.
A number of research analysts have commented on ACCO shares. TheStreet lowered ACCO Brands from a "b-" rating to a "c+" rating in a research report on Friday, November 16th. Zacks Investment Research raised ACCO Brands from a "sell" rating to a "hold" rating in a research report on Tuesday, January 1st. Finally, Barrington Research set a $13.00 price target on ACCO Brands and gave the company a "buy" rating in a research report on Monday, November 5th. One equities research analyst has rated the stock with a sell rating, one has given a hold rating and three have given a buy rating to the company. The stock presently has an average rating of "Hold" and an average price target of $15.25.
TRADEMARK VIOLATION NOTICE: This piece of content was posted by Stock Observer and is the property of of Stock Observer. If you are viewing this piece of content on another website, it was illegally copied and republished in violation of international copyright legislation. The correct version of this piece of content can be accessed at https://www.thestockobserver.com/2019/02/12/acco-brands-acco-set-to-announce-quarterly-earnings-on-wednesday.html.
About ACCO Brands
ACCO Brands Corporation designs, manufactures, and markets, consumer and business products. It operates through three segments: ACCO Brands North America, ACCO Brands EMEA, and ACCO Brands International. The company offers school notebooks, calendars, and whiteboards; storage and organization products, such as lever-arch binders, sheet protectors, and indexes; stapling, punching, laminating, binding, and shredding products; do-it-yourself tools; and computer accessories and others, which are primarily used in schools, homes, and businesses.
Featured Story: Day Trading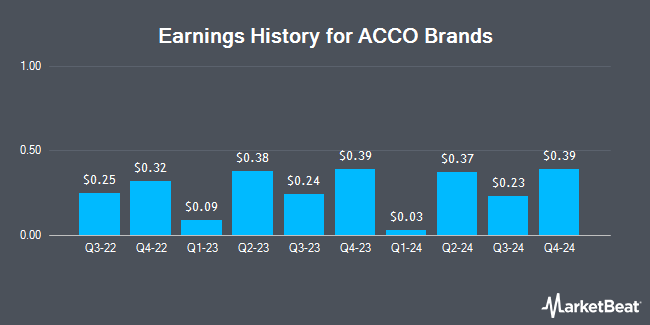 Receive News & Ratings for ACCO Brands Daily - Enter your email address below to receive a concise daily summary of the latest news and analysts' ratings for ACCO Brands and related companies with MarketBeat.com's FREE daily email newsletter.