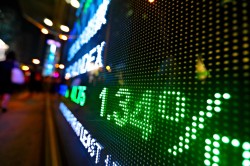 Adyen (OTCMKTS:ADYYF) was upgraded by research analysts at Bank of America from a "neutral" rating to a "buy" rating in a note issued to investors on Monday.
Shares of ADYYF opened at $658.66 on Monday. Adyen has a 12 month low of $450.00 and a 12 month high of $848.84.
About Adyen
Adyen N.V., a technology company, operates as a payment processor company worldwide. Its platform enables the acceptance and processing of cards and local payments across its merchants' online, mobile, and point of sale channels. The company was founded in 2006 and is headquartered in Amsterdam, the Netherlands.
Recommended Story: Terms to Better Understand Call Options

Receive News & Ratings for Adyen Daily - Enter your email address below to receive a concise daily summary of the latest news and analysts' ratings for Adyen and related companies with MarketBeat.com's FREE daily email newsletter.