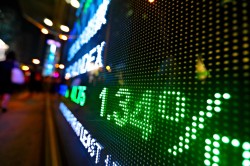 WMIH (NASDAQ:COOP) released its quarterly earnings data on Thursday. The company reported $0.59 earnings per share (EPS) for the quarter, topping the Zacks' consensus estimate of $0.54 by $0.05, Fidelity Earnings reports. WMIH had a net margin of 229.44% and a return on equity of 18.07%.
NASDAQ COOP traded down $0.21 during trading hours on Friday, hitting $15.11. The company's stock had a trading volume of 807,671 shares, compared to its average volume of 700,211. WMIH has a 52 week low of $7.20 and a 52 week high of $20.04. The stock has a market cap of $259.35 million, a price-to-earnings ratio of 125.92 and a beta of -0.63.
A number of equities analysts have recently issued reports on the stock. Barclays raised shares of WMIH from an "underweight" rating to a "hold" rating and set a $18.00 price objective on the stock in a research report on Friday. Wedbush reissued a "buy" rating and set a $23.00 price objective on shares of WMIH in a research report on Wednesday, October 17th. Zacks Investment Research cut shares of WMIH from a "hold" rating to a "sell" rating in a research report on Tuesday, October 23rd. Finally, Piper Jaffray Companies raised shares of WMIH from an "underweight" rating to a "neutral" rating in a research report on Tuesday, October 30th.
TRADEMARK VIOLATION NOTICE: This report was first reported by Stock Observer and is owned by of Stock Observer. If you are reading this report on another site, it was copied illegally and reposted in violation of United States & international trademark & copyright laws. The correct version of this report can be viewed at https://www.thestockobserver.com/2018/11/10/wmih-coop-posts-earnings-results-beats-estimates-by-0-05-eps.html.
WMIH Company Profile
Mr. Cooper Group Inc provides servicing, origination, and transaction-based services related principally to single-family residences in the United States. It offers home loan servicers focused on delivering various servicing and lending products, services, and technologies. The company provides technology and data enhanced solutions to homebuyers, home sellers, real estate agents, and mortgage companies.
Recommended Story: The Discount Rate – What You Need to Know
Receive News & Ratings for WMIH Daily - Enter your email address below to receive a concise daily summary of the latest news and analysts' ratings for WMIH and related companies with MarketBeat.com's FREE daily email newsletter.