Superdry (LON:SDRY) had its price target cut by investment analysts at Royal Bank of Canada from GBX 1,500 ($19.60) to GBX 900 ($11.76) in a report issued on Friday, November 9th. The brokerage presently has a "sector performer" rating on the stock. Royal Bank of Canada's price objective suggests a potential upside of 29.87% from the stock's previous close.
SDRY has been the topic of several other research reports. Peel Hunt restated a "buy" rating on shares of Superdry in a research report on Wednesday, October 3rd. Liberum Capital reaffirmed a "hold" rating on shares of Superdry in a report on Thursday, November 8th. Finally, Berenberg Bank reduced their target price on shares of Superdry from GBX 1,920 ($25.09) to GBX 1,200 ($15.68) and set a "buy" rating on the stock in a report on Tuesday, October 16th. Two investment analysts have rated the stock with a hold rating and four have given a buy rating to the stock. Superdry has an average rating of "Buy" and a consensus target price of GBX 1,400 ($18.29).
Shares of LON SDRY opened at GBX 690 ($9.02) on Friday. Superdry has a 52-week low of GBX 1,438 ($18.79) and a 52-week high of GBX 2,102 ($27.47).
Superdry Company Profile
Superdry Plc engages in the design, production, and sale of clothing and accessories primarily under the Superdry brand for men and women in the United Kingdom, Europe, and internationally. It operates through two segments, Retail and Wholesale. The Retail segment operates stores, concessions, and various Internet sites, which sell company's own brand and third party clothing, footwear, and accessories.
Featured Article: What are trading strategies for the 52-week high/low?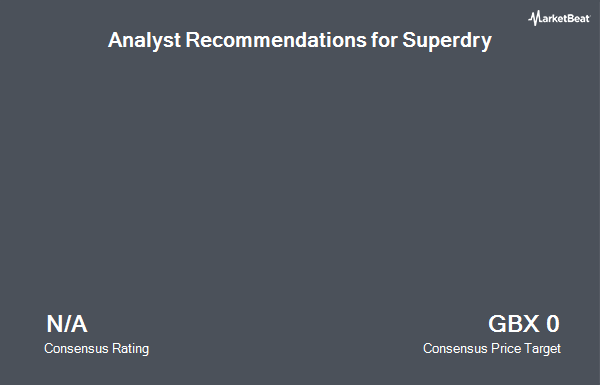 Receive News & Ratings for Superdry Daily - Enter your email address below to receive a concise daily summary of the latest news and analysts' ratings for Superdry and related companies with MarketBeat.com's FREE daily email newsletter.