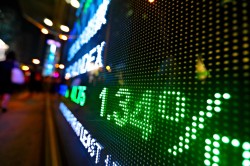 Daxor Co. (NYSEAMERICAN:DXR) insider Robert J. Michel acquired 2,500 shares of the stock in a transaction on Wednesday, November 7th. The stock was purchased at an average cost of $7.42 per share, with a total value of $18,550.00. Following the transaction, the insider now directly owns 2,500 shares of the company's stock, valued at $18,550. The transaction was disclosed in a legal filing with the Securities & Exchange Commission, which is available through the SEC website.
Shares of NYSEAMERICAN:DXR opened at $7.37 on Friday. Daxor Co. has a 52-week low of $3.40 and a 52-week high of $21.66.
WARNING: This article was posted by Stock Observer and is the sole property of of Stock Observer. If you are accessing this article on another site, it was illegally copied and reposted in violation of US and international copyright legislation. The correct version of this article can be read at https://www.thestockobserver.com/2018/11/10/robert-j-michel-purchases-2500-shares-of-daxor-co-dxr-stock.html.
Daxor Company Profile
Daxor Corporation, a medical device company, provides biotechnology and cryobanking services in the United States. The company offers BVA-100 Blood Volume Analyzer, an instrument that measures blood volume in human body. BVA-100 Blood Volume Analyzer is used to diagnose and treat patients in various medical and surgical conditions, including congestive heart failure, critical care medicine and intensive care unit medicine, hypertension, syncope, pre-operative blood screening for hidden anemia, anemia in cancer patients, kidney failure, and hyponatremia.
Read More: What is Compound Interest?

Receive News & Ratings for Daxor Daily - Enter your email address below to receive a concise daily summary of the latest news and analysts' ratings for Daxor and related companies with MarketBeat.com's FREE daily email newsletter.