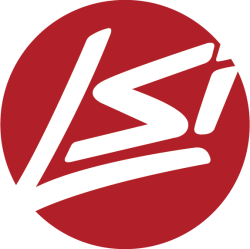 LSI Industries, Inc. (NASDAQ:LYTS) declared a quarterly dividend on Wednesday, November 7th, Wall Street Journal reports. Investors of record on Friday, November 16th will be paid a dividend of 0.05 per share by the construction company on Tuesday, November 27th. This represents a $0.20 annualized dividend and a yield of 4.50%. The ex-dividend date is Thursday, November 15th.
LSI Industries has increased its dividend payment by an average of 1.7% per year over the last three years. LSI Industries has a payout ratio of 50.0% indicating that its dividend is sufficiently covered by earnings. Analysts expect LSI Industries to earn $0.50 per share next year, which means the company should continue to be able to cover its $0.20 annual dividend with an expected future payout ratio of 40.0%.
Shares of NASDAQ LYTS opened at $4.44 on Friday. The firm has a market cap of $118.81 million, a P/E ratio of 20.18, a P/E/G ratio of 0.65 and a beta of 1.35. LSI Industries has a 12-month low of $3.98 and a 12-month high of $8.88. The company has a debt-to-equity ratio of 0.33, a quick ratio of 1.40 and a current ratio of 2.61.
LSI Industries (NASDAQ:LYTS) last issued its earnings results on Tuesday, November 6th. The construction company reported $0.08 earnings per share (EPS) for the quarter, missing the Thomson Reuters' consensus estimate of $0.12 by ($0.04). LSI Industries had a positive return on equity of 4.38% and a negative net margin of 0.64%. The company had revenue of $84.96 million for the quarter, compared to the consensus estimate of $90.00 million. Equities research analysts predict that LSI Industries will post 0.28 earnings per share for the current fiscal year.
A number of research analysts have weighed in on LYTS shares. Roth Capital raised shares of LSI Industries from a "neutral" rating to a "buy" rating and set a $14.00 price objective on the stock in a research note on Thursday, August 16th. TheStreet lowered shares of LSI Industries from a "c-" rating to a "d+" rating in a research note on Wednesday, August 15th. Finally, Zacks Investment Research lowered shares of LSI Industries from a "hold" rating to a "sell" rating in a research note on Friday. One analyst has rated the stock with a sell rating and three have issued a buy rating to the company. The stock currently has a consensus rating of "Buy" and a consensus target price of $10.76.
In other LSI Industries news, VP James E. Galeese acquired 9,745 shares of the company's stock in a transaction on Friday, August 17th. The shares were purchased at an average cost of $5.14 per share, with a total value of $50,089.30. Following the completion of the purchase, the vice president now owns 16,660 shares of the company's stock, valued at $85,632.40. The acquisition was disclosed in a filing with the SEC, which can be accessed through this hyperlink. Also, Director Gary P. Kreider sold 11,352 shares of the firm's stock in a transaction on Friday, November 9th. The shares were sold at an average price of $4.53, for a total transaction of $51,424.56. Following the completion of the transaction, the director now directly owns 26,529 shares in the company, valued at $120,176.37. The disclosure for this sale can be found here. Insiders acquired 38,071 shares of company stock worth $194,240 over the last ninety days. Insiders own 2.86% of the company's stock.
TRADEMARK VIOLATION NOTICE: This piece was reported by Stock Observer and is the property of of Stock Observer. If you are reading this piece on another site, it was illegally copied and republished in violation of United States & international trademark and copyright legislation. The original version of this piece can be viewed at https://www.thestockobserver.com/2018/11/10/lsi-industries-inc-to-issue-quarterly-dividend-of-0-05-lyts.html.
About LSI Industries
LSI Industries Inc provides corporate visual image solutions in the United States, Canada, Australia, and Latin America. It operates in three segments: Lighting, Graphics, and Technology. The Lighting segment manufactures and markets outdoor and indoor lighting and lighting controls for the commercial, industrial, and multi-site retail markets, including the petroleum/convenience store, quick-service, and automotive markets.
Featured Story: What is Considered a Good Return on Equity (ROE)?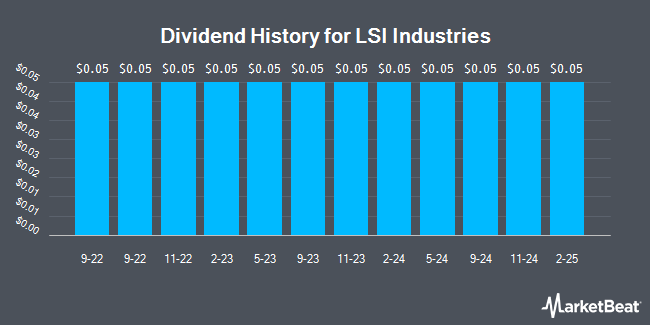 Receive News & Ratings for LSI Industries Daily - Enter your email address below to receive a concise daily summary of the latest news and analysts' ratings for LSI Industries and related companies with MarketBeat.com's FREE daily email newsletter.