DASAN Zhone Solutions (NASDAQ:DZSI) posted its quarterly earnings data on Thursday. The communications equipment provider reported $0.11 earnings per share for the quarter, missing the consensus estimate of $0.16 by ($0.05), MarketWatch Earnings reports. The company had revenue of $71.91 million during the quarter. DASAN Zhone Solutions had a return on equity of 9.88% and a net margin of 2.64%.
DZSI stock traded up $0.11 during trading on Friday, hitting $14.39. The company had a trading volume of 31,497 shares, compared to its average volume of 22,527. The company has a market capitalization of $221.07 million, a P/E ratio of 30.45 and a beta of 1.32. DASAN Zhone Solutions has a fifty-two week low of $7.67 and a fifty-two week high of $15.59. The company has a quick ratio of 1.21, a current ratio of 1.55 and a debt-to-equity ratio of 0.09.
In other DASAN Zhone Solutions news, Director Michael Connors sold 3,333 shares of the company's stock in a transaction dated Monday, September 10th. The shares were sold at an average price of $10.24, for a total value of $34,129.92. The sale was disclosed in a filing with the Securities & Exchange Commission, which is available through this hyperlink. Corporate insiders own 65.30% of the company's stock.
A hedge fund recently bought a new stake in DASAN Zhone Solutions stock. Bank of New York Mellon Corp purchased a new stake in DASAN Zhone Solutions Inc (NASDAQ:DZSI) in the second quarter, according to its most recent Form 13F filing with the SEC. The institutional investor purchased 19,036 shares of the communications equipment provider's stock, valued at approximately $185,000. Bank of New York Mellon Corp owned about 0.12% of DASAN Zhone Solutions at the end of the most recent quarter. 15.64% of the stock is currently owned by hedge funds and other institutional investors.
ILLEGAL ACTIVITY WARNING: This news story was reported by Stock Observer and is the sole property of of Stock Observer. If you are accessing this news story on another publication, it was copied illegally and reposted in violation of international trademark and copyright laws. The legal version of this news story can be read at https://www.thestockobserver.com/2018/11/10/dasan-zhone-solutions-dzsi-announces-quarterly-earnings-results-misses-expectations-by-0-05-eps.html.
About DASAN Zhone Solutions
DASAN Zhone Solutions, Inc provides network access solutions and communications equipment for service provider and enterprise networks worldwide. It offers broadband access products, including customer premise equipment, such as digital subscriber line (DSL) modems; Ethernet access demarcation devices; and gigabit passive optical network (GPON) and 10G point-to-point active Ethernet optical network terminals.
Recommended Story: How Do I Invest in Dividend Stocks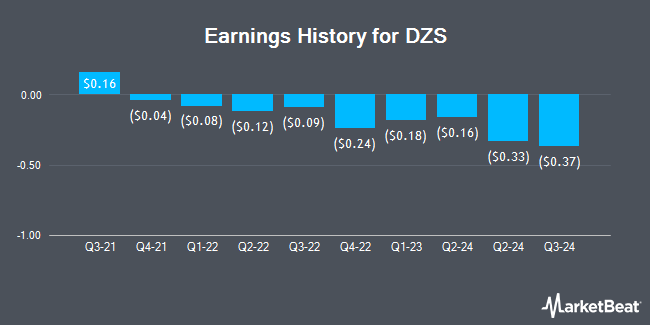 Receive News & Ratings for DASAN Zhone Solutions Daily - Enter your email address below to receive a concise daily summary of the latest news and analysts' ratings for DASAN Zhone Solutions and related companies with MarketBeat.com's FREE daily email newsletter.