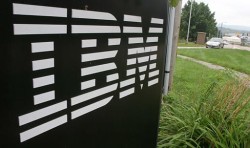 IBM (NYSE:IBM) is scheduled to be posting its quarterly earnings results after the market closes on Tuesday, October 16th. Analysts expect IBM to post earnings of $3.40 per share for the quarter. IBM has set its FY18 guidance at at least $13.80 EPS.
IBM (NYSE:IBM) last announced its quarterly earnings results on Wednesday, July 18th. The technology company reported $3.08 EPS for the quarter, topping the Thomson Reuters' consensus estimate of $3.04 by $0.04. The company had revenue of $20 billion during the quarter, compared to analyst estimates of $19.85 billion. IBM had a return on equity of 69.84% and a net margin of 7.13%. The firm's revenue was up 3.7% on a year-over-year basis. During the same period in the prior year, the firm posted $2.94 earnings per share. On average, analysts expect IBM to post $14 EPS for the current fiscal year and $14 EPS for the next fiscal year.
Shares of NYSE:IBM opened at $140.85 on Friday. The stock has a market cap of $138.02 billion, a price-to-earnings ratio of 10.21, a PEG ratio of 2.20 and a beta of 0.87. The company has a quick ratio of 1.27, a current ratio of 1.32 and a debt-to-equity ratio of 2.03. IBM has a 12 month low of $137.45 and a 12 month high of $171.13.
A number of equities research analysts have recently issued reports on IBM shares. Zacks Investment Research lowered IBM from a "hold" rating to a "sell" rating in a research note on Wednesday, October 3rd. Moffett Nathanson started coverage on IBM in a research note on Thursday, October 4th. They issued a "sell" rating and a $150.00 target price for the company. JPMorgan Chase & Co. reiterated a "$149.24" rating and issued a $157.00 target price on shares of IBM in a research note on Thursday, July 19th. Societe Generale set a $149.00 target price on IBM and gave the company a "sell" rating in a research note on Thursday, July 19th. Finally, Wedbush reiterated a "neutral" rating and issued a $185.00 target price on shares of IBM in a research note on Thursday, July 19th. Five equities research analysts have rated the stock with a sell rating, ten have issued a hold rating and ten have given a buy rating to the stock. The stock currently has an average rating of "Hold" and an average price target of $168.45.
In related news, insider Diane J. Gherson sold 11,451 shares of the stock in a transaction dated Friday, August 3rd. The stock was sold at an average price of $145.42, for a total value of $1,665,204.42. Following the completion of the transaction, the insider now owns 19,114 shares of the company's stock, valued at $2,779,557.88. The sale was disclosed in a document filed with the Securities & Exchange Commission, which is available at the SEC website. Corporate insiders own 0.17% of the company's stock.
About IBM
International Business Machines Corporation operates as an integrated technology and services company worldwide. Its Cognitive Solutions segment offers Watson, a cognitive computing platform that interacts in natural language, processes big data, and learns from interactions with people and computers.
See Also: What is Compound Annual Growth Rate (CAGR)?

Receive News & Ratings for IBM Daily - Enter your email address below to receive a concise daily summary of the latest news and analysts' ratings for IBM and related companies with MarketBeat.com's FREE daily email newsletter.