BlackRock (NYSE:BLK) is scheduled to release its earnings data before the market opens on Tuesday, October 16th. Analysts expect BlackRock to post earnings of $6.98 per share for the quarter.
BlackRock (NYSE:BLK) last posted its earnings results on Monday, July 16th. The asset manager reported $6.66 EPS for the quarter, topping the Zacks' consensus estimate of $6.55 by $0.11. The company had revenue of $3.61 billion for the quarter, compared to the consensus estimate of $3.58 billion. BlackRock had a return on equity of 13.20% and a net margin of 38.97%. BlackRock's quarterly revenue was up 11.4% compared to the same quarter last year. During the same period in the previous year, the business earned $5.24 earnings per share. On average, analysts expect BlackRock to post $28 EPS for the current fiscal year and $30 EPS for the next fiscal year.
BLK opened at $427.70 on Friday. The company has a current ratio of 3.87, a quick ratio of 3.87 and a debt-to-equity ratio of 0.88. The firm has a market cap of $75.22 billion, a price-to-earnings ratio of 18.92, a PEG ratio of 1.46 and a beta of 1.55. BlackRock has a one year low of $415.35 and a one year high of $594.52.
The company also recently announced a quarterly dividend, which was paid on Monday, September 24th. Shareholders of record on Friday, September 7th were given a dividend of $3.13 per share. This represents a $12.52 dividend on an annualized basis and a yield of 2.93%. This is an increase from BlackRock's previous quarterly dividend of $2.88. The ex-dividend date of this dividend was Thursday, September 6th. BlackRock's payout ratio is presently 55.40%.
In other news, Chairman Laurence Fink sold 19,800 shares of the company's stock in a transaction on Wednesday, July 18th. The stock was sold at an average price of $507.67, for a total value of $10,051,866.00. Following the sale, the chairman now directly owns 1,098,328 shares in the company, valued at $557,588,175.76. The sale was disclosed in a document filed with the Securities & Exchange Commission, which can be accessed through this hyperlink. Also, Director William E. Ford acquired 1,000 shares of BlackRock stock in a transaction dated Wednesday, July 18th. The stock was bought at an average price of $507.98 per share, for a total transaction of $507,980.00. Following the completion of the transaction, the director now directly owns 4,400 shares of the company's stock, valued at $2,235,112. The disclosure for this purchase can be found here. 1.75% of the stock is owned by corporate insiders.
A number of research firms have commented on BLK. Keefe, Bruyette & Woods upgraded BlackRock from a "market perform" rating to an "outperform" rating and set a $590.00 target price on the stock in a research report on Friday, July 13th. JPMorgan Chase & Co. reiterated a "focus list" rating and set a $547.00 target price on shares of BlackRock in a research report on Monday, July 2nd. ValuEngine downgraded BlackRock from a "hold" rating to a "sell" rating in a research report on Friday. Goldman Sachs Group decreased their target price on BlackRock to $570.00 and set a "buy" rating on the stock in a research report on Tuesday, July 17th. Finally, Deutsche Bank restated a "buy" rating and issued a $550.00 price objective (down from $559.00) on shares of BlackRock in a research report on Thursday. One analyst has rated the stock with a sell rating, three have issued a hold rating and ten have given a buy rating to the company's stock. The company has an average rating of "Buy" and a consensus target price of $590.62.
BlackRock Company Profile
BlackRock, Inc is a publicly owned investment manager. The firm primarily provides its services to institutional, intermediary, and individual investors including corporate, public, union, and industry pension plans, insurance companies, third-party mutual funds, endowments, public institutions, governments, foundations, charities, sovereign wealth funds, corporations, official institutions, and banks.
Further Reading: How to calculate the intrinsic value of a stock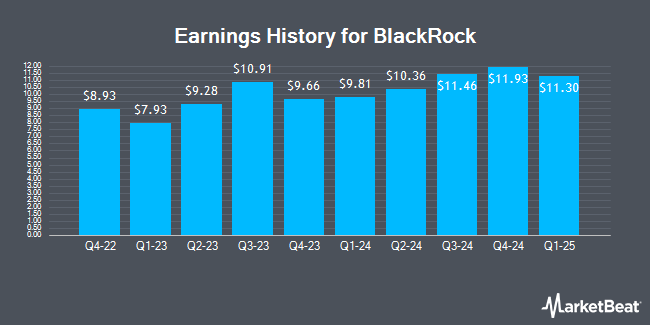 Receive News & Ratings for BlackRock Daily - Enter your email address below to receive a concise daily summary of the latest news and analysts' ratings for BlackRock and related companies with MarketBeat.com's FREE daily email newsletter.