A Schulman Inc (NASDAQ:SHLM) announced a quarterly dividend on Thursday, June 14th, RTT News reports. Investors of record on Friday, July 13th will be paid a dividend of 0.205 per share by the basic materials company on Wednesday, August 1st. This represents a $0.82 annualized dividend and a yield of 1.85%.
SHLM traded down $0.03 on Thursday, hitting $44.25. The company had a trading volume of 135,434 shares, compared to its average volume of 350,731. The firm has a market cap of $1.31 billion, a P/E ratio of 25.29 and a beta of 1.34. A Schulman has a 1 year low of $25.00 and a 1 year high of $44.63. The company has a current ratio of 1.79, a quick ratio of 1.09 and a debt-to-equity ratio of 4.15.
A Schulman (NASDAQ:SHLM) last issued its quarterly earnings data on Wednesday, March 28th. The basic materials company reported ($0.11) earnings per share (EPS) for the quarter, missing the consensus estimate of $0.36 by ($0.47). The company had revenue of $650.10 million during the quarter, compared to analysts' expectations of $646.57 million. A Schulman had a net margin of 1.74% and a return on equity of 20.83%. equities research analysts forecast that A Schulman will post 2.15 earnings per share for the current year.
Several brokerages recently issued reports on SHLM. Zacks Investment Research upgraded shares of A Schulman from a "sell" rating to a "hold" rating in a report on Wednesday, May 30th. TheStreet lowered shares of A Schulman from a "b-" rating to a "c" rating in a report on Wednesday, April 11th. BidaskClub lowered shares of A Schulman from a "buy" rating to a "hold" rating in a research note on Friday, April 6th. Finally, Gabelli lowered shares of A Schulman from a "buy" rating to a "hold" rating in a research note on Friday, February 16th. Five investment analysts have rated the stock with a hold rating and one has given a buy rating to the company's stock. A Schulman currently has a consensus rating of "Hold" and a consensus price target of $41.00.
A Schulman Company Profile
A. Schulman, Inc manufactures and supplies plastic compounds and resins. It offers custom performance colors, including standard and customized colors, organic and inorganic pigments, high chroma colors in translucent or opaque formats, and special effects. The company also provides engineered composites, such as bulk molding compounds, sheet molding compounds, and thick molding compounds, as well as high performance engineered structural composite solutions for original equipment manufacturers and custom molders.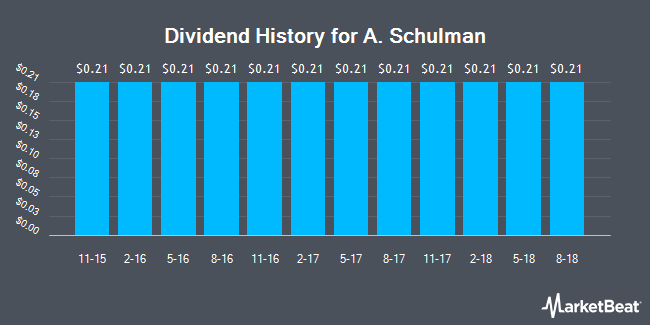 Receive News & Ratings for A Schulman Daily - Enter your email address below to receive a concise daily summary of the latest news and analysts' ratings for A Schulman and related companies with MarketBeat.com's FREE daily email newsletter.