Shares of Scor Se (OTCMKTS:SCRYY) have earned an average rating of "Hold" from the seven brokerages that are presently covering the stock, MarketBeat.com reports. One analyst has rated the stock with a sell recommendation, four have issued a hold recommendation and two have assigned a buy recommendation to the company.
SCRYY has been the topic of a number of research analyst reports. ValuEngine raised shares of Scor from a "hold" rating to a "buy" rating in a report on Thursday, March 1st. Zacks Investment Research raised shares of Scor from a "hold" rating to a "buy" rating and set a $4.75 price target on the stock in a report on Saturday, February 24th. JPMorgan Chase lowered shares of Scor from an "overweight" rating to a "neutral" rating in a report on Monday, March 19th. Royal Bank of Canada raised shares of Scor from an "underperform" rating to a "sector perform" rating in a report on Tuesday, January 16th. Finally, Goldman Sachs lowered shares of Scor from a "neutral" rating to a "sell" rating in a report on Thursday, March 29th.
Shares of SCRYY stock traded down $0.04 during trading on Friday, reaching $4.27. 20,929 shares of the company's stock traded hands, compared to its average volume of 82,430. The stock has a market capitalization of $8,291.47, a P/E ratio of 25.35 and a beta of 0.76. The company has a current ratio of 8.96, a quick ratio of 8.96 and a debt-to-equity ratio of 0.36. Scor has a 1 year low of $3.75 and a 1 year high of $4.55.
Scor (OTCMKTS:SCRYY) last announced its quarterly earnings results on Thursday, February 22nd. The financial services provider reported $0.16 EPS for the quarter. The company had revenue of $3.86 billion for the quarter. Scor had a net margin of 2.05% and a return on equity of 4.36%. equities analysts predict that Scor will post 0.4 EPS for the current year.
WARNING: "Scor Se (SCRYY) Receives Consensus Rating of "Hold" from Analysts" was posted by Stock Observer and is owned by of Stock Observer. If you are viewing this story on another publication, it was stolen and reposted in violation of US & international trademark and copyright laws. The correct version of this story can be read at https://www.thestockobserver.com/2018/04/20/scor-se-scryy-receives-consensus-rating-of-hold-from-analysts.html.
Scor Company Profile
SCOR SE is engaged in providing life and non-life reinsurance. The Company's segments include SCOR Global P&C (Non-Life) and SCOR Global Life (Life). The Company's divisions include SCOR Global P&C, SCOR Global Life and SCOR Global Investments. The Company's Non-Life segment is divided into four business areas: Property and Casualty Treaties; Specialty Treaties; Business Solutions (underwriting of large corporate accounts), and Business Ventures and Partnerships.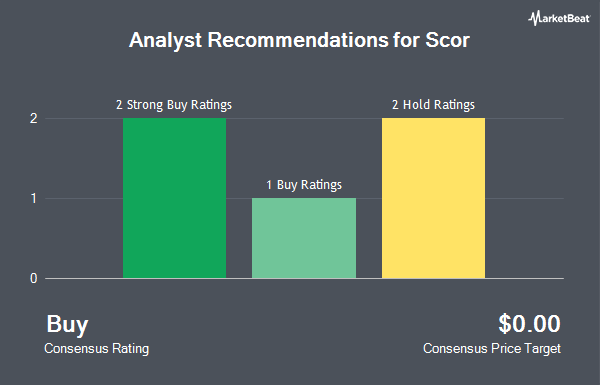 Receive News & Ratings for Scor Daily - Enter your email address below to receive a concise daily summary of the latest news and analysts' ratings for Scor and related companies with MarketBeat.com's FREE daily email newsletter.