Shares of G4S (OTCMKTS:GFSZY) have earned an average rating of "Buy" from the nine ratings firms that are presently covering the company, MarketBeat reports. One equities research analyst has rated the stock with a sell rating, two have issued a hold rating and six have given a buy rating to the company. The average twelve-month target price among brokerages that have covered the stock in the last year is $22.00.
Several equities research analysts have recently weighed in on the company. ValuEngine upgraded G4S from a "hold" rating to a "buy" rating in a report on Friday, February 2nd. Zacks Investment Research downgraded G4S from a "buy" rating to a "hold" rating in a report on Tuesday, January 23rd. UBS raised G4S from a "neutral" rating to a "buy" rating in a research note on Monday, January 8th. Finally, BNP Paribas raised G4S from an "underperform" rating to a "neutral" rating in a research note on Wednesday, February 21st.
Shares of G4S (OTCMKTS GFSZY) traded down $0.03 during midday trading on Friday, hitting $17.48. The stock had a trading volume of 3,883 shares, compared to its average volume of 16,677. The company has a current ratio of 1.51, a quick ratio of 1.45 and a debt-to-equity ratio of 2.86. G4S has a 12-month low of $16.61 and a 12-month high of $22.50.
COPYRIGHT VIOLATION WARNING: "Analysts Set G4S (GFSZY) Price Target at $22.00" was published by Stock Observer and is owned by of Stock Observer. If you are reading this story on another site, it was illegally copied and republished in violation of U.S. & international trademark and copyright legislation. The correct version of this story can be viewed at https://www.thestockobserver.com/2018/03/20/analysts-set-g4s-gfszy-price-target-at-22-00.html.
About G4S
G4S plc, together with its subsidiaries, engages in the provision of security and related services in the United Kingdom, Ireland, Africa, Asia, the Middle East, Latin America, Europe, and North America. The company offers integrated solutions, including analytics and intelligence, technology and software, consulting and risk management, monitoring and response, and manned and mobile security, as well as design, built, and integration systems.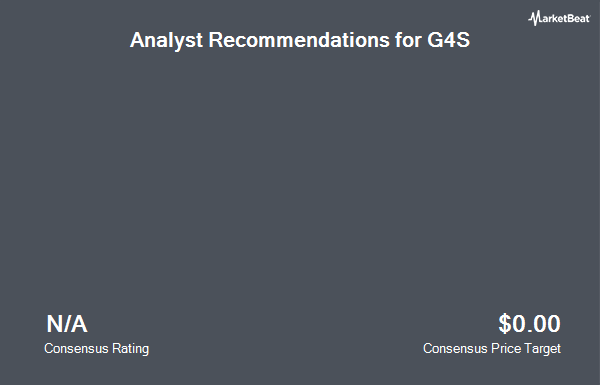 Receive News & Ratings for G4S Daily - Enter your email address below to receive a concise daily summary of the latest news and analysts' ratings for G4S and related companies with MarketBeat.com's FREE daily email newsletter.