RedHill Biopharma (NASDAQ:RDHL) is scheduled to be issuing its quarterly earnings data before the market opens on Thursday, February 22nd. Analysts expect the company to announce earnings of ($0.65) per share for the quarter.
Shares of RedHill Biopharma (NASDAQ RDHL) opened at $6.21 on Wednesday. RedHill Biopharma has a 52 week low of $4.30 and a 52 week high of $11.25. The stock has a market capitalization of $130.19, a P/E ratio of -2.27 and a beta of 0.74.
RDHL has been the topic of a number of recent research reports. Nomura initiated coverage on RedHill Biopharma in a research note on Friday, January 26th. They issued a "buy" rating and a $18.00 target price on the stock. HC Wainwright reaffirmed a "buy" rating and issued a $36.00 target price on shares of RedHill Biopharma in a research note on Tuesday, November 21st. Roth Capital reduced their target price on RedHill Biopharma from $27.00 to $20.00 and set a "buy" rating on the stock in a research note on Tuesday, November 14th. Finally, Zacks Investment Research lowered RedHill Biopharma from a "buy" rating to a "hold" rating in a research note on Friday, November 24th. One equities research analyst has rated the stock with a sell rating, one has issued a hold rating and five have given a buy rating to the company's stock. The company currently has an average rating of "Buy" and a consensus price target of $20.58.
WARNING: This piece was reported by Stock Observer and is the sole property of of Stock Observer. If you are viewing this piece on another publication, it was stolen and republished in violation of US and international copyright law. The correct version of this piece can be read at https://www.thestockobserver.com/2018/02/21/redhill-biopharma-rdhl-to-release-quarterly-earnings-on-thursday.html.
RedHill Biopharma Company Profile
Redhill Biopharma Ltd, is an Israel-based specialty biopharmaceutical company. The Company focuses on the development and commercialization of late clinical-stage, proprietary, orally-administered, small molecule drugs for the treatment of gastrointestinal and inflammatory diseases and cancer. It offers the following gastrointestinal products in the United States: Donnatal, a prescription oral adjunctive drug used in the treatment of Irritable Bowel Syndrome (IBS) and acute enterocolitis, as well as EnteraGam, a medical food intended for the dietary management, under medical supervision, of chronic diarrhea and loose stools.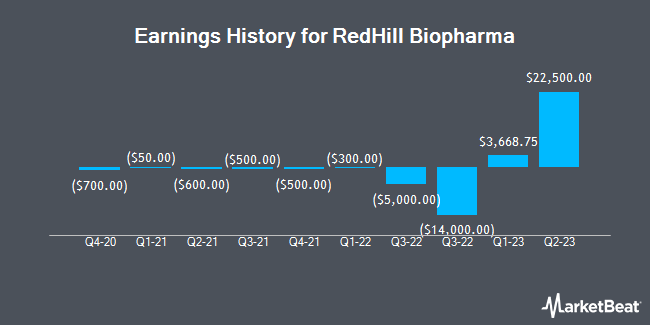 Receive News & Ratings for RedHill Biopharma Daily - Enter your email address below to receive a concise daily summary of the latest news and analysts' ratings for RedHill Biopharma and related companies with MarketBeat.com's FREE daily email newsletter.