I.D. Systems (NASDAQ:IDSY) is scheduled to be posting its quarterly earnings results after the market closes on Wednesday, February 28th. Analysts expect I.D. Systems to post earnings of $0.03 per share for the quarter.
I.D. Systems (IDSY) opened at $7.59 on Wednesday. I.D. Systems has a 1-year low of $5.50 and a 1-year high of $8.05. The firm has a market cap of $132.33, a P/E ratio of -19.97, a price-to-earnings-growth ratio of 0.94 and a beta of 0.10.
Several equities analysts have weighed in on the stock. Zacks Investment Research downgraded shares of I.D. Systems from a "hold" rating to a "sell" rating in a report on Saturday. TheStreet raised shares of I.D. Systems from a "d" rating to a "c-" rating in a report on Monday, January 22nd. Finally, B. Riley reaffirmed a "buy" rating and set a $8.50 price target on shares of I.D. Systems in a report on Friday, November 10th. One investment analyst has rated the stock with a sell rating, two have assigned a hold rating and one has given a buy rating to the stock. I.D. Systems has a consensus rating of "Hold" and a consensus target price of $8.17.
In other I.D. Systems news, major shareholder Emancipation Management Llc sold 25,000 shares of I.D. Systems stock in a transaction that occurred on Thursday, January 18th. The shares were sold at an average price of $6.90, for a total transaction of $172,500.00. The sale was disclosed in a filing with the SEC, which is accessible through this link. 12.17% of the stock is owned by insiders.
An institutional investor recently raised its position in I.D. Systems stock. Northern Trust Corp grew its stake in shares of I.D. Systems, Inc. (NASDAQ:IDSY) by 2.6% during the 2nd quarter, according to the company in its most recent Form 13F filing with the Securities and Exchange Commission (SEC). The fund owned 30,613 shares of the communications equipment provider's stock after buying an additional 784 shares during the period. Northern Trust Corp owned 0.23% of I.D. Systems worth $188,000 as of its most recent filing with the Securities and Exchange Commission (SEC). Institutional investors and hedge funds own 48.37% of the company's stock.
ILLEGAL ACTIVITY WARNING: This article was originally published by Stock Observer and is the property of of Stock Observer. If you are reading this article on another website, it was stolen and republished in violation of international copyright laws. The correct version of this article can be accessed at https://www.thestockobserver.com/2018/02/21/i-d-systems-idsy-to-release-quarterly-earnings-on-wednesday.html.
I.D. Systems Company Profile
I.D. Systems, Inc (I.D. Systems) develops, markets and sells wireless machine-to-machine solutions for managing and securing enterprise assets, which include industrial vehicles, such as forklifts and airport ground support equipment, rental vehicles, and transportation assets, such as dry van trailers, refrigerated trailers, railcars and containers.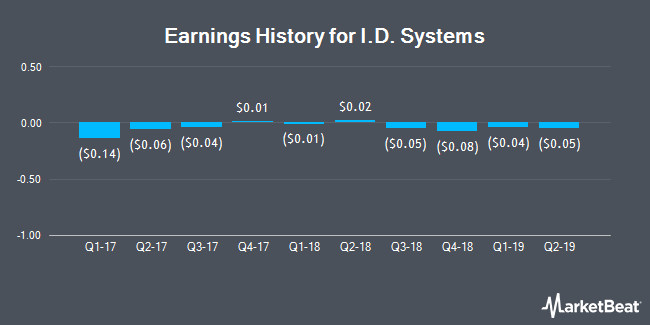 Receive News & Ratings for I.D. Systems Daily - Enter your email address below to receive a concise daily summary of the latest news and analysts' ratings for I.D. Systems and related companies with MarketBeat.com's FREE daily email newsletter.