Travelport Worldwide (NYSE:TVPT) announced its quarterly earnings data on Tuesday. The company reported $0.35 earnings per share (EPS) for the quarter, beating the Zacks' consensus estimate of $0.01 by $0.34, Bloomberg Earnings reports. Travelport Worldwide had a negative return on equity of 42.32% and a net margin of 3.72%. The firm had revenue of $573.57 million for the quarter, compared to analysts' expectations of $566.92 million. During the same period last year, the firm earned $0.23 earnings per share. The company's revenue for the quarter was up 5.2% compared to the same quarter last year. Travelport Worldwide updated its FY18 guidance to $1.34-1.46 EPS.
Travelport Worldwide (NYSE TVPT) traded up $0.81 during midday trading on Tuesday, hitting $14.03. The company had a trading volume of 409,598 shares, compared to its average volume of 2,596,400. The company has a quick ratio of 0.81, a current ratio of 0.81 and a debt-to-equity ratio of -9.42. The company has a market capitalization of $1,656.68, a PE ratio of 14.37, a PEG ratio of 3.99 and a beta of 0.52. Travelport Worldwide has a 12 month low of $11.38 and a 12 month high of $16.17.
In related news, insider Matthew Minetola sold 12,000 shares of the firm's stock in a transaction dated Thursday, December 7th. The stock was sold at an average price of $12.86, for a total value of $154,320.00. Following the sale, the insider now directly owns 33,402 shares of the company's stock, valued at $429,549.72. The transaction was disclosed in a legal filing with the Securities & Exchange Commission, which can be accessed through the SEC website. 1.19% of the stock is owned by company insiders.
A number of research analysts have recently issued reports on TVPT shares. Zacks Investment Research cut Travelport Worldwide from a "hold" rating to a "strong sell" rating in a research note on Thursday, November 9th. ValuEngine cut Travelport Worldwide from a "buy" rating to a "hold" rating in a research note on Sunday, December 31st. Cowen set a $19.00 price objective on Travelport Worldwide and gave the company a "buy" rating in a research note on Wednesday, November 1st. Evercore ISI cut Travelport Worldwide from an "outperform" rating to an "underperform" rating in a research note on Friday, January 5th. Finally, BidaskClub cut Travelport Worldwide from a "hold" rating to a "sell" rating in a research note on Tuesday, November 14th. Two analysts have rated the stock with a sell rating, four have assigned a hold rating and one has given a buy rating to the stock. The company presently has an average rating of "Hold" and a consensus price target of $16.00.
COPYRIGHT VIOLATION WARNING: This report was first reported by Stock Observer and is the sole property of of Stock Observer. If you are reading this report on another publication, it was illegally copied and reposted in violation of United States and international copyright laws. The original version of this report can be viewed at https://www.thestockobserver.com/2018/02/20/travelport-worldwide-tvpt-releases-earnings-results-beats-estimates-by-0-34-eps.html.
Travelport Worldwide Company Profile
Travelport Worldwide Limited provides a travel commerce platform, which offers distribution, technology, payment, mobile and other solutions for the travel and tourism industry. The Company connects travel providers, such as airlines and hotel chains with online and offline travel agencies and other travel buyers in its business-to-business (B2B) travel commerce platform (its Travel Commerce Platform).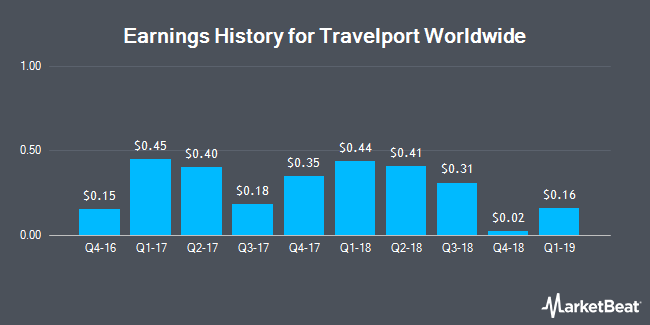 Receive News & Ratings for Travelport Worldwide Daily - Enter your email address below to receive a concise daily summary of the latest news and analysts' ratings for Travelport Worldwide and related companies with MarketBeat.com's FREE daily email newsletter.