Office Depot Inc (NASDAQ:ODP) declared a quarterly dividend on Tuesday, February 6th, RTT News reports. Investors of record on Friday, March 2nd will be given a dividend of 0.025 per share by the specialty retailer on Thursday, March 15th. This represents a $0.10 dividend on an annualized basis and a dividend yield of 3.27%.
Office Depot (NASDAQ ODP) opened at $3.06 on Tuesday. The company has a debt-to-equity ratio of 0.51, a current ratio of 1.52 and a quick ratio of 0.93. Office Depot has a 1 year low of $2.97 and a 1 year high of $6.26. The firm has a market capitalization of $1,672.22, a price-to-earnings ratio of 5.14, a P/E/G ratio of 0.50 and a beta of 2.47.
Office Depot (NASDAQ:ODP) last released its quarterly earnings results on Thursday, November 9th. The specialty retailer reported $0.14 earnings per share for the quarter, meeting the Zacks' consensus estimate of $0.14. Office Depot had a return on equity of 12.86% and a net margin of 3.00%. The business had revenue of $2.62 billion during the quarter, compared to analyst estimates of $2.61 billion. During the same quarter last year, the company posted $0.16 EPS. Office Depot's revenue for the quarter was down 7.6% on a year-over-year basis. research analysts expect that Office Depot will post 0.44 earnings per share for the current fiscal year.
A number of equities analysts recently weighed in on the company. BidaskClub lowered Office Depot from a "hold" rating to a "sell" rating in a research report on Wednesday, January 31st. ValuEngine lowered Office Depot from a "buy" rating to a "hold" rating in a research report on Sunday, December 31st. Zacks Investment Research upgraded Office Depot from a "sell" rating to a "hold" rating in a research report on Tuesday, December 5th. Finally, JPMorgan Chase & Co. lowered Office Depot from a "neutral" rating to an "underweight" rating in a research report on Monday, October 30th. Two investment analysts have rated the stock with a sell rating, seven have issued a hold rating and one has assigned a buy rating to the company's stock. The stock currently has a consensus rating of "Hold" and a consensus target price of $5.08.
TRADEMARK VIOLATION NOTICE: This news story was reported by Stock Observer and is the property of of Stock Observer. If you are accessing this news story on another domain, it was stolen and republished in violation of international copyright and trademark laws. The original version of this news story can be read at https://www.thestockobserver.com/2018/02/06/office-depot-inc-odp-plans-quarterly-dividend-of-0-03.html.
Office Depot Company Profile
Office Depot, Inc provides a selection of products and services to consumers and businesses of various sizes. The Company's segments include North American Retail Division and North American Business Solutions Division. The North American Retail Division includes retail stores in the United States, including Puerto Rico and the United States Virgin Islands, which offer office supplies, technology products and solutions, business machines and related supplies, facilities products and office furniture.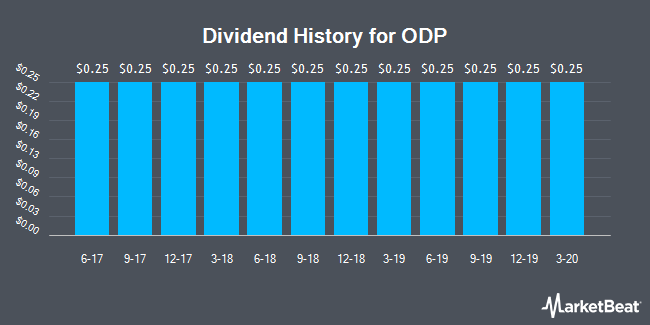 Receive News & Ratings for Office Depot Daily - Enter your email address below to receive a concise daily summary of the latest news and analysts' ratings for Office Depot and related companies with MarketBeat.com's FREE daily email newsletter.