Manning and Napier (NYSE:MN) is scheduled to announce its earnings results after the market closes on Wednesday, February 7th.
Manning and Napier (NYSE MN) opened at $3.70 on Tuesday. The stock has a market cap of $56.40, a PE ratio of 7.71, a price-to-earnings-growth ratio of 1.44 and a beta of 1.50. Manning and Napier has a one year low of $3.00 and a one year high of $7.30.
Several equities analysts have issued reports on MN shares. Zacks Investment Research upgraded shares of Manning and Napier from a "hold" rating to a "buy" rating and set a $4.50 target price on the stock in a research note on Tuesday, January 16th. Keefe, Bruyette & Woods restated a "hold" rating and set a $4.00 target price on shares of Manning and Napier in a research note on Friday, November 10th.
ILLEGAL ACTIVITY WARNING: This report was originally reported by Stock Observer and is the property of of Stock Observer. If you are viewing this report on another site, it was copied illegally and republished in violation of US and international trademark & copyright laws. The correct version of this report can be viewed at https://www.thestockobserver.com/2018/02/06/manning-and-napier-mn-set-to-announce-earnings-on-wednesday.html.
Manning and Napier Company Profile
Manning & Napier, Inc is an independent investment management company. The Company operates through investment management industry segment. It provides a range of investment solutions through separately managed accounts, mutual funds and collective investment trust funds, as well as a range of consultative services.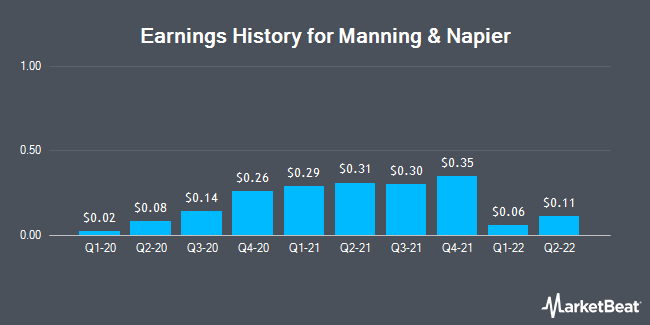 Receive News & Ratings for Manning and Napier Daily - Enter your email address below to receive a concise daily summary of the latest news and analysts' ratings for Manning and Napier and related companies with MarketBeat.com's FREE daily email newsletter.