Experian plc (LON:EXPN) has earned a consensus recommendation of "Hold" from the eleven ratings firms that are covering the firm, Marketbeat.com reports. Two research analysts have rated the stock with a sell recommendation, three have assigned a hold recommendation and six have issued a buy recommendation on the company. The average 12 month price target among brokerages that have updated their coverage on the stock in the last year is GBX 1,660.50 ($23.28).
Several research firms recently weighed in on EXPN. Deutsche Bank reissued a "sell" rating and set a GBX 1,380 ($19.35) price target on shares of Experian in a research report on Monday, November 13th. Macquarie upped their target price on Experian from GBX 1,870 ($26.22) to GBX 1,900 ($26.64) and gave the stock an "outperform" rating in a research report on Wednesday, October 11th. Credit Suisse Group reaffirmed an "outperform" rating and issued a GBX 1,900 ($26.64) target price on shares of Experian in a research report on Wednesday, January 10th. Goldman Sachs Group dropped their target price on Experian from GBX 1,950 ($27.34) to GBX 1,920 ($26.92) and set a "buy" rating on the stock in a research report on Thursday, November 9th. Finally, Shore Capital reaffirmed a "hold" rating on shares of Experian in a research report on Friday, November 10th.
Shares of Experian (LON EXPN) traded down GBX 41.50 ($0.58) during midday trading on Tuesday, hitting GBX 1,537 ($21.55). The stock had a trading volume of 2,940,000 shares, compared to its average volume of 1,750,000. Experian has a twelve month low of GBX 1,428 ($20.02) and a twelve month high of GBX 1,708 ($23.95). The stock has a market capitalization of $14,300.00 and a P/E ratio of 2,605.08.
The business also recently disclosed a dividend, which was paid on Friday, February 2nd. Stockholders of record on Thursday, January 4th were issued a dividend of $0.14 per share. This represents a dividend yield of 0.64%. The ex-dividend date of this dividend was Thursday, January 4th.
COPYRIGHT VIOLATION WARNING: This news story was originally published by Stock Observer and is owned by of Stock Observer. If you are accessing this news story on another publication, it was illegally stolen and reposted in violation of United States and international copyright & trademark law. The correct version of this news story can be viewed at https://www.thestockobserver.com/2018/02/06/experian-plc-expn-given-average-rating-of-hold-by-analysts.html.
Experian Company Profile
Experian plc is an information services company. The Company brings together people, data, analytics and software to deliver a range of services for consumers and clients. The Company's segments include Credit Services, Decision Analytics and Consumer Services. The Company manages data that helps businesses and organizations to lend, and prevent fraud.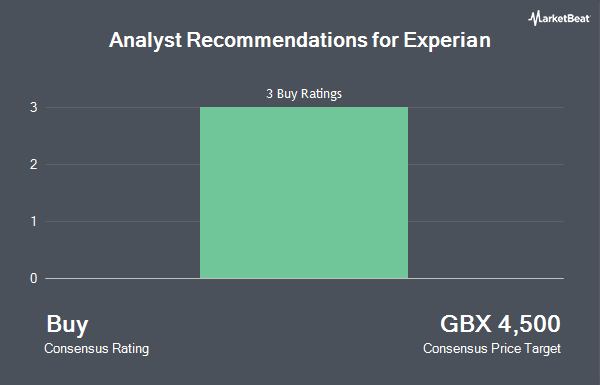 Receive News & Ratings for Experian Daily - Enter your email address below to receive a concise daily summary of the latest news and analysts' ratings for Experian and related companies with MarketBeat.com's FREE daily email newsletter.