Camtek (NASDAQ:CAMT) is scheduled to be announcing its earnings results before the market opens on Wednesday, February 7th. Analysts expect the company to announce earnings of $0.10 per share for the quarter.
Camtek (NASDAQ:CAMT) last posted its quarterly earnings data on Tuesday, November 7th. The semiconductor company reported $0.08 earnings per share for the quarter, meeting the Zacks' consensus estimate of $0.08. The business had revenue of $23.81 million during the quarter, compared to the consensus estimate of $23.50 million. Camtek had a return on equity of 15.68% and a net margin of 12.61%. On average, analysts expect Camtek to post $0 EPS for the current fiscal year and $0 EPS for the next fiscal year.
Shares of Camtek (NASDAQ CAMT) opened at $6.62 on Tuesday. The firm has a market capitalization of $239.07, a price-to-earnings ratio of 19.85 and a beta of 1.16. Camtek has a 1-year low of $3.44 and a 1-year high of $7.96.
A number of analysts recently weighed in on CAMT shares. TheStreet upgraded Camtek from a "c" rating to a "b" rating in a report on Thursday, November 9th. ValuEngine upgraded Camtek from a "hold" rating to a "buy" rating in a report on Friday. Finally, B. Riley upped their price target on shares of Camtek from $7.00 to $7.50 and gave the company a "buy" rating in a research report on Wednesday, November 8th. One equities research analyst has rated the stock with a hold rating and three have given a buy rating to the stock. The company currently has a consensus rating of "Buy" and an average target price of $6.67.
WARNING: "Camtek (CAMT) Scheduled to Post Quarterly Earnings on Wednesday" was posted by Stock Observer and is owned by of Stock Observer. If you are reading this piece on another site, it was illegally stolen and republished in violation of international trademark & copyright legislation. The original version of this piece can be viewed at https://www.thestockobserver.com/2018/02/06/camtek-camt-scheduled-to-post-quarterly-earnings-on-wednesday.html.
About Camtek
Camtek Ltd is an Israel-based manufacturer of metrology and inspection equipment and a provider of software solutions. The Company mainly serves the Advanced Packaging, Memory, Complementary Metal Oxide Semiconductor (CMOS) Image Sensors, Micro Electro Mechanical Sensor (MEMS), Radio Frequency (RF) and other segments in the mid end of the semiconductors industry.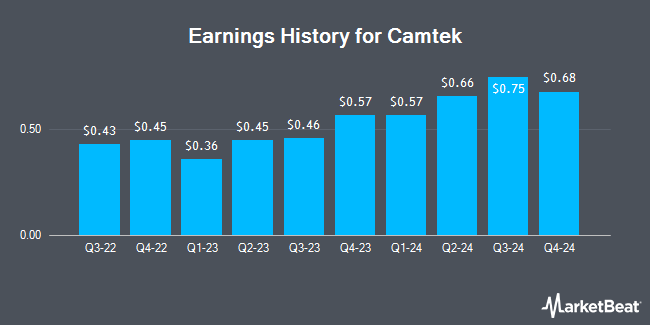 Receive News & Ratings for Camtek Daily - Enter your email address below to receive a concise daily summary of the latest news and analysts' ratings for Camtek and related companies with MarketBeat.com's FREE daily email newsletter.