Allergan (NYSE:AGN) issued an update on its FY18 earnings guidance on Tuesday morning. The company provided earnings per share (EPS) guidance of $15.25-16.00 for the period, compared to the Thomson Reuters consensus estimate of $15.42. The company issued revenue guidance of $15.0-15.3 billion, compared to the consensus revenue estimate of $15.25 billion.Allergan also updated its Q1 guidance to $3.20-3.40 EPS.
Shares of Allergan (AGN) traded up $1.76 during mid-day trading on Tuesday, reaching $166.76. The company had a trading volume of 2,005,087 shares, compared to its average volume of 2,722,780. Allergan has a 12 month low of $160.07 and a 12 month high of $256.80. The stock has a market capitalization of $54,880.00, a price-to-earnings ratio of -7.38, a price-to-earnings-growth ratio of 1.27 and a beta of 1.19. The company has a debt-to-equity ratio of 0.40, a current ratio of 1.18 and a quick ratio of 1.08.
Allergan (NYSE:AGN) last announced its quarterly earnings results on Tuesday, February 6th. The company reported $4.86 EPS for the quarter, topping analysts' consensus estimates of $4.74 by $0.12. The company had revenue of $4.33 billion during the quarter, compared to analyst estimates of $4.28 billion. Allergan had a positive return on equity of 8.00% and a negative net margin of 47.27%. The firm's revenue was up 12.0% on a year-over-year basis. During the same quarter last year, the firm posted $3.90 earnings per share. research analysts predict that Allergan will post 16.27 EPS for the current year.
Several equities analysts have commented on the company. Piper Jaffray Companies set a $227.00 price objective on Allergan and gave the company a hold rating in a research report on Friday, October 13th. Royal Bank of Canada reissued an outperform rating and set a $250.00 price objective (down previously from $277.00) on shares of Allergan in a research report on Thursday, October 19th. They noted that the move was a valuation call. Leerink Swann reissued an outperform rating and set a $237.00 price objective on shares of Allergan in a research report on Monday, November 27th. Vetr lowered Allergan from a buy rating to a hold rating and set a $180.97 price objective for the company. in a research report on Wednesday, January 10th. Finally, Wells Fargo & Co reissued an outperform rating and set a $245.00 price objective (down previously from $258.00) on shares of Allergan in a research report on Thursday, November 2nd. Two equities research analysts have rated the stock with a sell rating, seven have issued a hold rating and thirteen have issued a buy rating to the company's stock. The company presently has a consensus rating of Buy and an average price target of $227.56.
In other Allergan news, Director Chris W. Bodine acquired 3,030 shares of Allergan stock in a transaction that occurred on Thursday, December 7th. The stock was bought at an average cost of $164.77 per share, for a total transaction of $499,253.10. The purchase was disclosed in a document filed with the SEC, which is accessible through this link. Also, Chairman Brent L. Saunders acquired 4,600 shares of Allergan stock in a transaction that occurred on Wednesday, December 6th. The stock was acquired at an average price of $164.74 per share, with a total value of $757,804.00. The disclosure for this purchase can be found here. In the last ninety days, insiders bought 17,630 shares of company stock valued at $2,890,057. 0.36% of the stock is owned by insiders.
TRADEMARK VIOLATION NOTICE: "Allergan (AGN) Releases FY18 Earnings Guidance" was first reported by Stock Observer and is the sole property of of Stock Observer. If you are reading this report on another website, it was copied illegally and reposted in violation of US & international trademark & copyright laws. The correct version of this report can be read at https://www.thestockobserver.com/2018/02/06/allergan-agn-releases-fy18-earnings-guidance-2.html.
About Allergan
Allergan, Inc is a multi-specialty healthcare company. The Company focuses on developing and commercializing pharmaceuticals, biologics, medical devices and over-the-counter (OTC) products. It discovers, develops and commercializes a range of products for the ophthalmic, neurological, medical aesthetics, medical dermatology, breast aesthetics, urological and other specialty markets.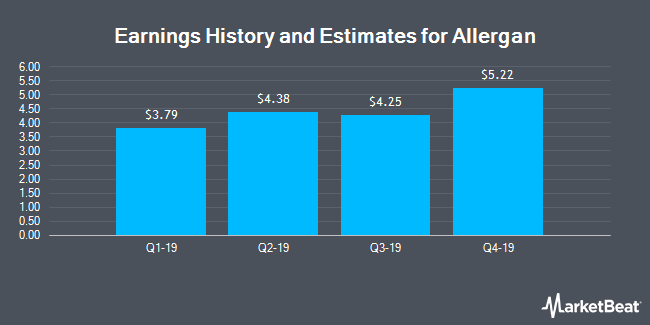 Receive News & Ratings for Allergan Daily - Enter your email address below to receive a concise daily summary of the latest news and analysts' ratings for Allergan and related companies with MarketBeat.com's FREE daily email newsletter.