PepsiCo, Inc. (NASDAQ:PEP) declared a quarterly dividend on Monday, February 5th, RTT News reports. Shareholders of record on Friday, March 2nd will be given a dividend of 0.805 per share on Friday, March 30th. This represents a $3.22 dividend on an annualized basis and a yield of 2.81%.
PepsiCo (NASDAQ PEP) traded down $4.21 during trading on Monday, reaching $114.46. The company's stock had a trading volume of 5,326,058 shares, compared to its average volume of 3,810,000. PepsiCo has a 12-month low of $104.06 and a 12-month high of $122.51. The company has a debt-to-equity ratio of 2.32, a quick ratio of 1.21 and a current ratio of 1.35. The company has a market cap of $162,780.00, a price-to-earnings ratio of 23.65, a PEG ratio of 3.06 and a beta of 0.62.
A number of research firms have commented on PEP. Stifel Nicolaus restated a "hold" rating and set a $120.00 price objective on shares of PepsiCo in a research note on Friday, December 22nd. BidaskClub lowered PepsiCo from a "buy" rating to a "hold" rating in a research note on Thursday, January 11th. Zacks Investment Research upgraded PepsiCo from a "sell" rating to a "hold" rating in a research note on Tuesday, December 12th. Royal Bank of Canada restated a "hold" rating on shares of PepsiCo in a research note on Sunday, November 12th. Finally, Deutsche Bank started coverage on PepsiCo in a research note on Wednesday, December 13th. They issued a "buy" rating and a $132.00 price target on the stock. One research analyst has rated the stock with a sell rating, nine have assigned a hold rating, eight have given a buy rating and one has assigned a strong buy rating to the company. The company has a consensus rating of "Hold" and a consensus price target of $123.44.
ILLEGAL ACTIVITY NOTICE: "PepsiCo, Inc. Plans Quarterly Dividend of $0.81 (PEP)" was originally reported by Stock Observer and is the sole property of of Stock Observer. If you are reading this story on another website, it was stolen and republished in violation of US and international trademark and copyright laws. The correct version of this story can be read at https://www.thestockobserver.com/2018/02/05/pepsico-inc-plans-quarterly-dividend-of-0-81-pep.html.
About PepsiCo
PepsiCo, Inc is a global food and beverage company. The Company's portfolio of brands includes Frito-Lay, Gatorade, Pepsi-Cola, Quaker and Tropicana. The Company operates through six segments: Frito-Lay North America (FLNA), Quaker Foods North America (QFNA), North America Beverages (NAB), Latin America, Europe Sub-Saharan Africa (ESSA), and Asia, Middle East and North Africa (AMENA).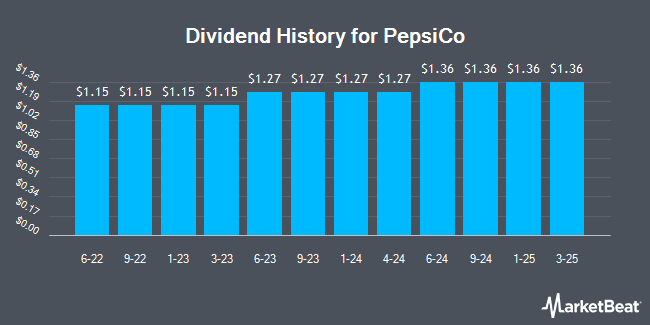 Receive News & Ratings for PepsiCo Daily - Enter your email address below to receive a concise daily summary of the latest news and analysts' ratings for PepsiCo and related companies with MarketBeat.com's FREE daily email newsletter.