Metro Bank (LON:MTRO) was upgraded by investment analysts at Citigroup to a "neutral" rating in a research note issued on Wednesday.
Several other research analysts have also recently commented on the stock. Numis Securities reiterated a "sell" rating and issued a GBX 2,000 ($27.12) target price on shares of Metro Bank in a report on Wednesday, October 25th. Jefferies Group decreased their target price on shares of Metro Bank from GBX 4,500 ($61.03) to GBX 4,200 ($56.96) and set a "buy" rating for the company in a report on Thursday, October 19th. Macquarie began coverage on shares of Metro Bank in a report on Wednesday, September 20th. They issued an "underperform" rating and a GBX 2,700 ($36.62) target price for the company. Finally, JPMorgan Chase & Co. reiterated an "underweight" rating and issued a GBX 2,600 ($35.26) target price on shares of Metro Bank in a report on Tuesday, September 19th. Six equities research analysts have rated the stock with a sell rating, two have given a hold rating and one has given a buy rating to the company's stock. The stock currently has an average rating of "Sell" and an average target price of GBX 3,040.56 ($41.23).
Shares of Metro Bank (LON:MTRO) traded down GBX 8 ($0.11) on Wednesday, hitting GBX 3,642 ($49.39). 131,488 shares of the company's stock traded hands, compared to its average volume of 99,784. Metro Bank has a one year low of GBX 3,075 ($41.70) and a one year high of GBX 3,872 ($52.51). The firm has a market capitalization of $3,220.00 and a PE ratio of 91,050.00.
In other news, insider Lord Howard Flight sold 640 shares of the stock in a transaction that occurred on Thursday, October 26th. The shares were sold at an average price of GBX 3,565 ($48.35), for a total value of £22,816 ($30,941.14).
ILLEGAL ACTIVITY WARNING: This piece of content was originally published by Stock Observer and is owned by of Stock Observer. If you are viewing this piece of content on another publication, it was copied illegally and reposted in violation of US and international trademark & copyright legislation. The legal version of this piece of content can be viewed at https://www.thestockobserver.com/2018/01/14/metro-bank-mtro-upgraded-to-neutral-by-citigroup.html.
Metro Bank Company Profile
Metro Bank PLC (the Bank) is a deposit-taking and lending institution. The Bank's principal activities include provision of banking and related services. It is focused on retail and small and medium size commercial customers. It offers personal and business banking services. Its everyday banking products include current accounts, and cash management and payments.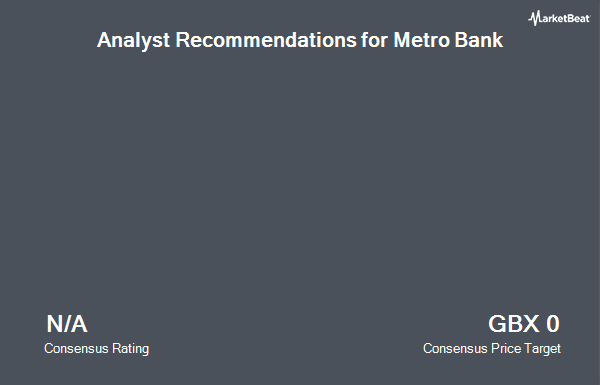 Receive News & Ratings for Metro Bank Daily - Enter your email address below to receive a concise daily summary of the latest news and analysts' ratings for Metro Bank and related companies with MarketBeat.com's FREE daily email newsletter.