Educational Development (NASDAQ:EDUC) released its quarterly earnings data on Thursday. The company reported $0.52 earnings per share (EPS) for the quarter, Bloomberg Earnings reports. The company had revenue of $38.91 million for the quarter. Educational Development had a net margin of 4.30% and a return on equity of 30.78%.
Educational Development (EDUC) opened at $16.70 on Friday. The stock has a market cap of $71.16, a PE ratio of 14.15 and a beta of 1.26. The company has a current ratio of 1.48, a quick ratio of 0.20 and a debt-to-equity ratio of 1.22. Educational Development has a 1 year low of $6.25 and a 1 year high of $19.00.
An institutional investor recently raised its position in Educational Development stock. Northern Trust Corp lifted its stake in shares of Educational Development Co. (NASDAQ:EDUC) by 4.0% during the second quarter, according to its most recent filing with the Securities and Exchange Commission (SEC). The institutional investor owned 10,462 shares of the company's stock after purchasing an additional 406 shares during the quarter. Northern Trust Corp owned about 0.26% of Educational Development worth $111,000 at the end of the most recent reporting period. Institutional investors and hedge funds own 6.89% of the company's stock.
COPYRIGHT VIOLATION NOTICE: "Educational Development (EDUC) Posts Earnings Results" was originally published by Stock Observer and is the sole property of of Stock Observer. If you are reading this news story on another publication, it was copied illegally and republished in violation of international trademark & copyright legislation. The legal version of this news story can be viewed at https://www.thestockobserver.com/2018/01/13/educational-development-educ-posts-earnings-results.html.
Educational Development Company Profile
Educational Development Corporation (EDC) is a publisher of the line of educational children's books produced in the United Kingdom by Usborne Publishing Limited (Usborne). The Company also owns Kane Miller Book Publishers. The Company sells books through two segments: Home Business Division (Usborne Books & More or UBAM) and Publishing Division (EDC Publishing).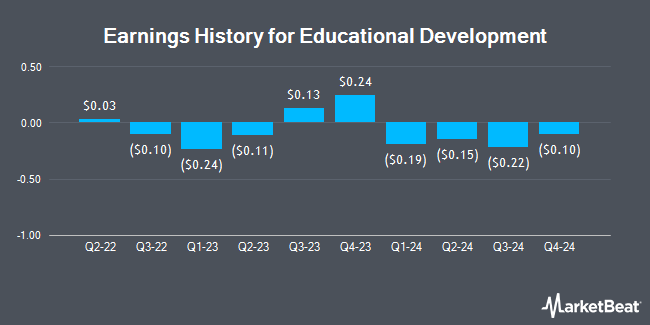 Receive News & Ratings for Educational Development Daily - Enter your email address below to receive a concise daily summary of the latest news and analysts' ratings for Educational Development and related companies with MarketBeat.com's FREE daily email newsletter.