Berenberg Bank reissued their buy rating on shares of Balfour Beatty (LON:BBY) in a research note released on Tuesday morning. They currently have a GBX 350 ($4.71) price target on the stock.
A number of other analysts have also commented on the company. Peel Hunt upgraded Balfour Beatty to a buy rating and boosted their price target for the company from GBX 300 ($4.04) to GBX 340 ($4.58) in a report on Thursday, September 28th. Liberum Capital reiterated a buy rating and set a GBX 350 ($4.71) target price on shares of Balfour Beatty in a report on Friday, November 10th. Finally, Numis Securities reiterated a buy rating and set a GBX 350 ($4.71) target price on shares of Balfour Beatty in a report on Wednesday, August 16th. Three investment analysts have rated the stock with a hold rating and five have assigned a buy rating to the stock. Balfour Beatty currently has an average rating of Buy and a consensus price target of GBX 327.57 ($4.41).
Shares of Balfour Beatty (BBY) opened at GBX 264.92 ($3.57) on Tuesday. Balfour Beatty has a twelve month low of GBX 252.50 ($3.40) and a twelve month high of GBX 298.90 ($4.02).
In related news, insider Barbara Moorhouse bought 4,000 shares of the company's stock in a transaction that occurred on Friday, September 29th. The shares were acquired at an average price of GBX 269 ($3.62) per share, for a total transaction of £10,760 ($14,481.83). Insiders have purchased 4,167 shares of company stock worth $1,120,754 in the last quarter.
ILLEGAL ACTIVITY NOTICE: "Berenberg Bank Reaffirms "Buy" Rating for Balfour Beatty (BBY)" was reported by Stock Observer and is the property of of Stock Observer. If you are accessing this piece of content on another publication, it was copied illegally and republished in violation of US & international copyright legislation. The legal version of this piece of content can be accessed at https://www.thestockobserver.com/2017/12/08/berenberg-bank-reaffirms-buy-rating-for-balfour-beatty-bby.html.
Balfour Beatty Company Profile
Balfour Beatty plc is an infrastructure company that provides maintenance, upgrade and management services in power transmission, utilities infrastructure, and road and rail. The Company operates through three segments: Construction Services segment, which is engaged in the physical construction of an asset; Support Services segment, which is engaged in supporting existing assets or functions, such as asset maintenance and refurbishment, and Infrastructure Investments segment, which is engaged in the acquisition operation and disposal of infrastructure assets, such as roads, hospitals, schools, student accommodation, military housing, waste and biomass, offshore transmission networks and other concessions.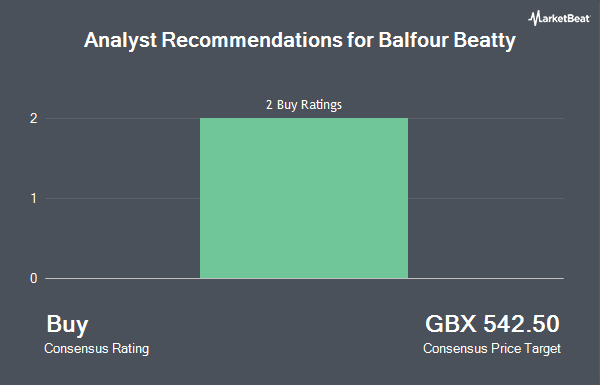 Receive News & Ratings for Balfour Beatty plc Daily - Enter your email address below to receive a concise daily summary of the latest news and analysts' ratings for Balfour Beatty plc and related companies with MarketBeat.com's FREE daily email newsletter.