TransCanada Co. (TSE:TRP) (NYSE:TRP) Director Thierry Vandal bought 261 shares of the company's stock in a transaction on Friday, December 1st. The stock was purchased at an average cost of C$61.64 per share, for a total transaction of C$16,088.04.
Shares of TransCanada Co. (TRP) traded up C$0.83 during midday trading on Thursday, hitting C$63.18. The stock had a trading volume of 1,127,229 shares, compared to its average volume of 1,494,337. TransCanada Co. has a fifty-two week low of C$58.62 and a fifty-two week high of C$65.24.
The firm also recently announced a quarterly dividend, which will be paid on Wednesday, January 31st. Investors of record on Friday, December 29th will be paid a dividend of $0.625 per share. The ex-dividend date of this dividend is Thursday, December 28th. This represents a $2.50 annualized dividend and a yield of 3.96%. TransCanada's payout ratio is 120.79%.
A number of research analysts have recently commented on the company. J P Morgan Chase & Co increased their price objective on TransCanada from C$74.00 to C$76.00 in a report on Tuesday. National Bank Financial increased their price objective on TransCanada from C$68.00 to C$69.00 and gave the company a "sector perform" rating in a report on Wednesday, November 29th. TD Securities raised TransCanada from a "buy" rating to an "action list buy" rating and increased their price objective for the company from C$79.00 to C$81.00 in a report on Friday, November 10th. Finally, CIBC increased their price objective on TransCanada from C$70.00 to C$75.00 in a report on Tuesday, November 21st. One analyst has rated the stock with a hold rating, four have assigned a buy rating and one has assigned a strong buy rating to the company's stock. The company currently has a consensus rating of "Buy" and a consensus target price of C$73.75.
TRADEMARK VIOLATION NOTICE: This article was first reported by Stock Observer and is the property of of Stock Observer. If you are reading this article on another domain, it was copied illegally and reposted in violation of U.S. & international trademark and copyright laws. The correct version of this article can be read at https://www.thestockobserver.com/2017/12/07/transcanada-co-trp-director-buys-c16088-04-in-stock.html.
TransCanada Company Profile
TransCanada Corporation is an energy infrastructure company. The Company is engaged in the development and operation of North American energy infrastructure, including natural gas and liquids pipelines, power generation and natural gas storage facilities. Its segments include Canadian Natural Gas Pipelines, U.S.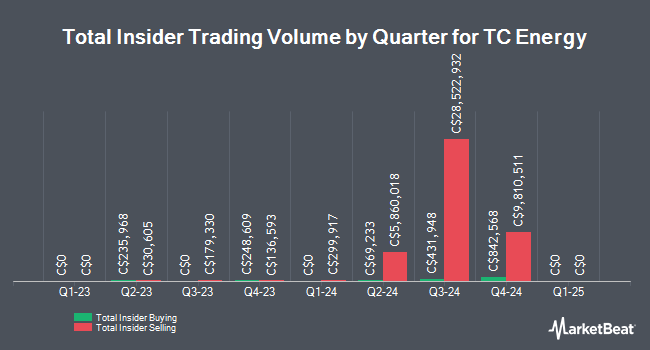 Receive News & Ratings for TransCanada Co. Daily - Enter your email address below to receive a concise daily summary of the latest news and analysts' ratings for TransCanada Co. and related companies with MarketBeat.com's FREE daily email newsletter.