Pennon Group Plc (LON:PNN) has earned an average recommendation of "Hold" from the eleven analysts that are covering the stock, MarketBeat.com reports. Three analysts have rated the stock with a sell recommendation, four have assigned a hold recommendation and four have assigned a buy recommendation to the company. The average 12-month price objective among brokerages that have issued a report on the stock in the last year is GBX 866.67 ($11.66).
PNN has been the topic of a number of research reports. Deutsche Bank reaffirmed a "buy" rating and issued a GBX 870 ($11.71) price target on shares of Pennon Group in a research note on Friday, August 25th. Beaufort Securities reiterated a "buy" rating on shares of Pennon Group in a report on Tuesday, September 26th. reiterated a "buy" rating and issued a GBX 960 ($12.92) price objective on shares of Pennon Group in a report on Wednesday, September 13th. Finally, J P Morgan Chase & Co lifted their price objective on shares of Pennon Group from GBX 840 ($11.31) to GBX 860 ($11.57) and gave the company a "neutral" rating in a report on Thursday, October 26th.
In other news, insider Christopher Loughlin sold 19,552 shares of the stock in a transaction dated Friday, September 15th. The shares were sold at an average price of GBX 792 ($10.66), for a total value of £154,851.84 ($208,414.32). Insiders bought 57 shares of company stock valued at $45,030 in the last three months.
Pennon Group (LON:PNN) opened at GBX 767 ($10.32) on Thursday. Pennon Group has a one year low of GBX 763 ($10.27) and a one year high of GBX 947.23 ($12.75).
The company also recently disclosed a dividend, which will be paid on Wednesday, April 4th. Investors of record on Thursday, January 25th will be given a dividend of GBX 11.97 ($0.16) per share. The ex-dividend date is Thursday, January 25th. This represents a yield of 1.54%.
COPYRIGHT VIOLATION NOTICE: This article was originally posted by Stock Observer and is the sole property of of Stock Observer. If you are accessing this article on another site, it was illegally stolen and reposted in violation of United States & international trademark & copyright law. The legal version of this article can be viewed at https://www.thestockobserver.com/2017/12/07/pennon-group-plc-pnn-receives-average-rating-of-hold-from-brokerages.html.
About Pennon Group
Pennon Group Plc is an environmental infrastructure company. The Company operates through subsidiaries, which include South West Water Limited, Bournemouth Water Limited and Viridor Limited. The Company's segments include Water and Waste management. Its water business comprises the regulated water and wastewater services undertaken by South West Water Limited and the regulated water services undertaken by Bournemouth Water Limited.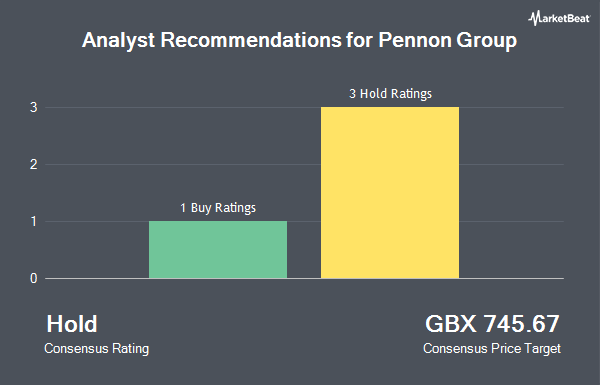 Receive News & Ratings for Pennon Group Plc Daily - Enter your email address below to receive a concise daily summary of the latest news and analysts' ratings for Pennon Group Plc and related companies with MarketBeat.com's FREE daily email newsletter.