Enanta Pharmaceuticals, Inc. (NASDAQ:ENTA) released its earnings results on Monday. The biotechnology company reported $1.86 EPS for the quarter, missing analysts' consensus estimates of $2.13 by ($0.27), Briefing.com reports. The company had revenue of $75.93 million for the quarter, compared to analysts' expectations of $73.80 million. Enanta Pharmaceuticals had a negative return on equity of 7.74% and a negative net margin of 51.85%. The firm's revenue for the quarter was up 491.3% on a year-over-year basis. During the same period in the prior year, the firm earned ($0.09) EPS.
Shares of Enanta Pharmaceuticals (ENTA) opened at $49.71 on Tuesday. Enanta Pharmaceuticals has a 52 week low of $25.92 and a 52 week high of $50.92.
TRADEMARK VIOLATION WARNING: This article was first reported by Stock Observer and is the property of of Stock Observer. If you are viewing this article on another site, it was copied illegally and reposted in violation of US & international copyright & trademark laws. The correct version of this article can be viewed at https://www.thestockobserver.com/2017/11/21/enanta-pharmaceuticals-inc-enta-releases-earnings-results-misses-expectations-by-0-27-eps.html.
ENTA has been the topic of a number of recent research reports. Robert W. Baird boosted their price target on shares of Enanta Pharmaceuticals from $27.00 to $36.00 and gave the stock a "neutral" rating in a research report on Tuesday, August 8th. J P Morgan Chase & Co reiterated an "overweight" rating and issued a $38.00 target price (up from $32.00) on shares of Enanta Pharmaceuticals in a report on Wednesday, August 9th. BidaskClub upgraded shares of Enanta Pharmaceuticals from a "hold" rating to a "buy" rating in a report on Friday, August 11th. Royal Bank Of Canada initiated coverage on shares of Enanta Pharmaceuticals in a report on Thursday, September 14th. They issued an "outperform" rating on the stock. Finally, JMP Securities upped their price objective on shares of Enanta Pharmaceuticals from $40.00 to $53.00 in a report on Wednesday, October 4th. Three research analysts have rated the stock with a hold rating and four have given a buy rating to the company's stock. Enanta Pharmaceuticals presently has an average rating of "Buy" and an average price target of $46.25.
Enanta Pharmaceuticals Company Profile
Enanta Pharmaceuticals, Inc is a research and development-focused biotechnology company. The Company uses chemistry-driven approach and drug discovery solutions to create small molecule drugs for the treatment of viral infections and liver diseases. Its research and development programs are focused on three disease targets: non-alcoholic steatohepatitis (NASH)/ primary biliary cholangitis (PBC), respiratory syncytial virus (RSV) and hepatitis B virus (HBV).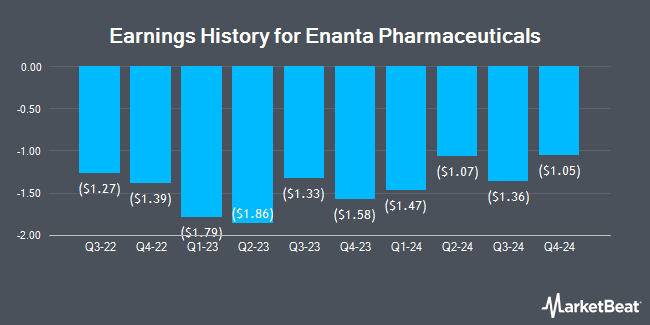 Receive News & Ratings for Enanta Pharmaceuticals Inc. Daily - Enter your email address below to receive a concise daily summary of the latest news and analysts' ratings for Enanta Pharmaceuticals Inc. and related companies with MarketBeat.com's FREE daily email newsletter.