Innospec Inc. (NASDAQ:IOSP) declared a semiannual dividend on Wednesday, November 8th, Wall Street Journal reports. Investors of record on Thursday, November 16th will be paid a dividend of 0.39 per share by the specialty chemicals company on Monday, November 27th. This represents a dividend yield of 1.12%. The ex-dividend date of this dividend is Wednesday, November 15th. This is an increase from Innospec's previous semiannual dividend of $0.38.
Innospec (NASDAQ:IOSP) opened at $67.25 on Tuesday. The company has a quick ratio of 1.35, a current ratio of 2.24 and a debt-to-equity ratio of 0.30. The stock has a market capitalization of $1,589.46, a price-to-earnings ratio of 15.49 and a beta of 1.16. Innospec has a 1-year low of $54.10 and a 1-year high of $74.75.
Innospec (NASDAQ:IOSP) last issued its earnings results on Tuesday, November 7th. The specialty chemicals company reported $1.00 earnings per share (EPS) for the quarter, topping the Zacks' consensus estimate of $0.85 by $0.15. Innospec had a return on equity of 15.05% and a net margin of 7.45%. The business had revenue of $332.40 million for the quarter, compared to analysts' expectations of $309.40 million. During the same period in the previous year, the firm posted $0.78 EPS. The company's quarterly revenue was up 61.8% on a year-over-year basis. analysts anticipate that Innospec will post 4.3 earnings per share for the current fiscal year.
A number of research firms recently issued reports on IOSP. BidaskClub cut Innospec from a "sell" rating to a "strong sell" rating in a research report on Thursday, July 27th. Zacks Investment Research cut Innospec from a "buy" rating to a "hold" rating and set a $63.00 price objective for the company. in a research report on Tuesday, September 12th. Monness Crespi & Hardt raised Innospec from a "neutral" rating to a "buy" rating and set a $65.00 price target for the company in a research report on Tuesday, August 22nd. ValuEngine cut Innospec from a "buy" rating to a "hold" rating in a research report on Monday, August 7th. Finally, KeyCorp reaffirmed an "overweight" rating on shares of Innospec in a research report on Thursday, November 9th. One analyst has rated the stock with a sell rating, one has assigned a hold rating and three have given a buy rating to the company's stock. The stock has an average rating of "Hold" and a consensus price target of $70.50.
ILLEGAL ACTIVITY NOTICE: This report was first posted by Stock Observer and is the property of of Stock Observer. If you are reading this report on another domain, it was stolen and republished in violation of international copyright law. The original version of this report can be read at https://www.thestockobserver.com/2017/11/14/innospec-inc-iosp-to-go-ex-dividend-on-november-15th.html.
Innospec Company Profile
Innospec Inc is a specialty chemicals company engaged in developing, manufacturing, blending, marketing and supplying of specialty chemicals for use as fuel additives and ingredients for personal care, home care, agrochemical, mining and other applications and oilfield chemicals. The Company operates through four business segments: Fuel Specialties, Performance Chemicals, Oilfield Services and Octane Additives.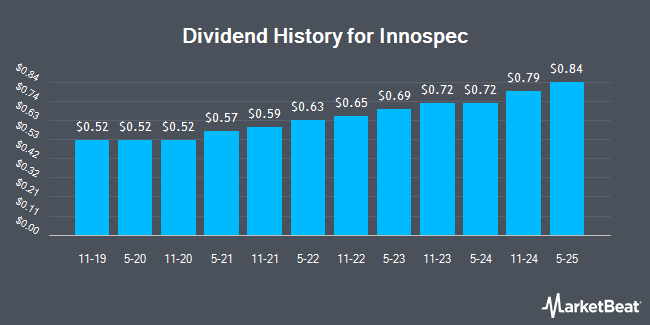 Receive News & Ratings for Innospec Inc. Daily - Enter your email address below to receive a concise daily summary of the latest news and analysts' ratings for Innospec Inc. and related companies with MarketBeat.com's FREE daily email newsletter.