Deutsche Bank AG restated their hold rating on shares of Hays plc (LON:HAS) in a research note released on Monday. The brokerage currently has a GBX 165 ($2.17) price target on the stock.
A number of other equities analysts also recently issued reports on HAS. Numis Securities Ltd reissued a hold rating and issued a GBX 180 ($2.37) price target on shares of Hays plc in a research note on Monday, July 17th. BNP Paribas restated a neutral rating and issued a GBX 175 ($2.30) price objective on shares of Hays plc in a report on Tuesday, July 18th. Barclays PLC restated an equal weight rating on shares of Hays plc in a report on Wednesday, July 19th. Liberum Capital restated a buy rating and issued a GBX 180 ($2.37) price objective on shares of Hays plc in a report on Thursday, August 24th. Finally, J P Morgan Chase & Co upped their price objective on shares of Hays plc from GBX 152.50 ($2.01) to GBX 165 ($2.17) and gave the stock a neutral rating in a report on Friday, September 1st. One equities research analyst has rated the stock with a sell rating, nine have assigned a hold rating and three have assigned a buy rating to the company. Hays plc has a consensus rating of Hold and a consensus target price of GBX 174.38 ($2.29).
Hays plc (LON:HAS) remained flat at $GBX 182.40 ($2.40) during mid-day trading on Monday. The stock had a trading volume of 3,282,363 shares, compared to its average volume of 3,550,000. Hays plc has a 52 week low of GBX 135.70 ($1.78) and a 52 week high of GBX 199.90 ($2.63).
COPYRIGHT VIOLATION WARNING: This piece of content was originally posted by Stock Observer and is the property of of Stock Observer. If you are viewing this piece of content on another website, it was stolen and republished in violation of international copyright and trademark laws. The correct version of this piece of content can be read at https://www.thestockobserver.com/2017/11/14/hays-plc-has-given-hold-rating-at-deutsche-bank-ag.html.
The firm also recently disclosed a dividend, which will be paid on Friday, November 17th. Shareholders of record on Thursday, October 5th will be issued a GBX 6.51 ($0.09) dividend. This represents a yield of 3.55%. The ex-dividend date is Thursday, October 5th. This is a boost from Hays plc's previous dividend of $0.96.
In other news, insider Doug Evans sold 31,220 shares of the stock in a transaction that occurred on Tuesday, September 5th. The shares were sold at an average price of GBX 185 ($2.43), for a total transaction of £57,757 ($75,966.07).
Hays plc Company Profile
Hays plc is a recruitment company. The Company's segments include Asia Pacific; Continental Europe & Rest of World, and United Kingdom & Ireland. The Company offers temporary and permanent recruitment services to private and public sector markets. It operates in over 30 countries and approximately 20 specialisms.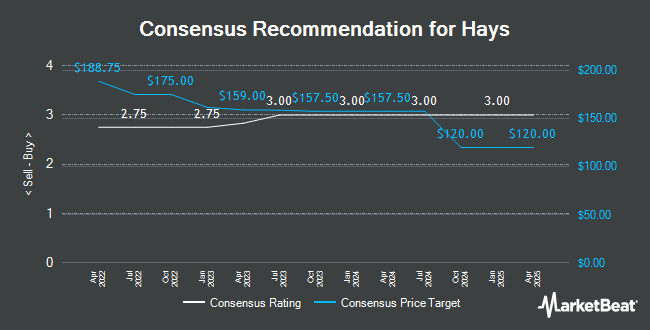 Receive News & Ratings for Hays plc Daily - Enter your email address below to receive a concise daily summary of the latest news and analysts' ratings for Hays plc and related companies with MarketBeat.com's FREE daily email newsletter.