L.S. Starrett Company (The) (NYSE:SCX) announced a quarterly dividend on Thursday, September 7th, NASDAQ reports. Stockholders of record on Tuesday, September 19th will be given a dividend of 0.10 per share on Friday, September 29th. This represents a $0.40 dividend on an annualized basis and a dividend yield of 5.33%. The ex-dividend date of this dividend is Monday, September 18th.
Shares of L.S. Starrett Company (SCX) opened at 7.50 on Wednesday. L.S. Starrett Company has a 1-year low of $6.75 and a 1-year high of $11.90. The stock has a 50 day moving average price of $7.45 and a 200-day moving average price of $9.12. The stock has a market capitalization of $52.37 million, a PE ratio of 53.57 and a beta of 1.34.
ILLEGAL ACTIVITY NOTICE: This piece was posted by Stock Observer and is owned by of Stock Observer. If you are reading this piece on another site, it was stolen and reposted in violation of U.S. and international copyright & trademark legislation. The legal version of this piece can be read at https://www.thestockobserver.com/2017/09/13/l-s-starrett-company-the-scx-to-go-ex-dividend-on-september-18th.html.
About L.S. Starrett Company (The)
The L.S. Starrett Company is engaged in the business of manufacturing over 5,000 variations of precision tools, gages, measuring instruments and saw blades for industrial, professional and consumer markets across the world. The Company's product line includes precision measuring tools (micrometers, calipers and rules, among others.), levels, electronic gages, dial indicators, gage blocks and granite surface plates and custom-engineered products.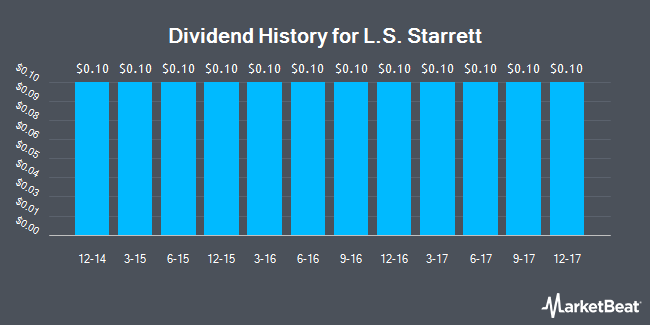 Receive News & Ratings for L.S. Starrett Company (The) Daily - Enter your email address below to receive a concise daily summary of the latest news and analysts' ratings for L.S. Starrett Company (The) and related companies with MarketBeat.com's FREE daily email newsletter.