Jeffersonville Bancorp (OTCMKTS:JFBC) announced a quarterly dividend on Wednesday, August 9th, Zacks reports. Shareholders of record on Monday, August 21st will be given a dividend of 0.14 per share by the bank on Friday, September 1st. This represents a $0.56 annualized dividend and a yield of 3.70%. The ex-dividend date is Thursday, August 17th.
Shares of Jeffersonville Bancorp (JFBC) opened at 15.15 on Friday. The stock has a market capitalization of $64.16 million, a price-to-earnings ratio of 12.76 and a beta of 0.13. The firm's 50-day moving average is $15.12 and its 200 day moving average is $15.53. Jeffersonville Bancorp has a 52-week low of $13.23 and a 52-week high of $16.77.
COPYRIGHT VIOLATION NOTICE: "Jeffersonville Bancorp (JFBC) Announces Quarterly Dividend of $0.14" was first posted by Stock Observer and is the sole property of of Stock Observer. If you are reading this report on another website, it was illegally stolen and reposted in violation of US & international copyright and trademark laws. The legal version of this report can be viewed at https://www.thestockobserver.com/2017/08/12/jeffersonville-bancorp-jfbc-announces-quarterly-dividend-of-0-14.html.
Jeffersonville Bancorp Company Profile
Jeffersonville Bancorp is the bank holding company for Jeff Bank (the Bank). The Bank is a commercial bank providing community banking services to individuals, small businesses and local municipal governments primarily in Sullivan County, New York. Its commercial portfolio segment includes commercial real estate and other commercial loans.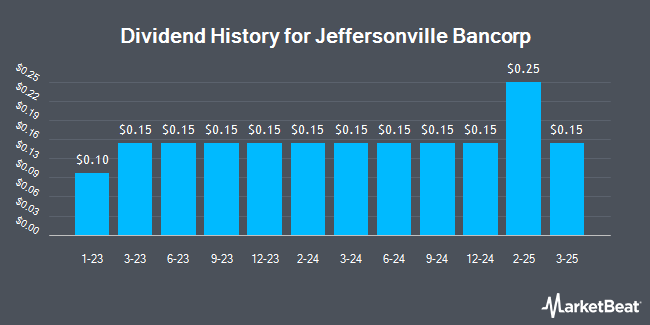 Receive News & Ratings for Jeffersonville Bancorp Daily - Enter your email address below to receive a concise daily summary of the latest news and analysts' ratings for Jeffersonville Bancorp and related companies with MarketBeat.com's FREE daily email newsletter.