Emerald Mutual Fund Advisers Trust continued to hold its position in shares of Blue Bird Corporation (NASDAQ:BLBD) during the second quarter, according to its most recent disclosure with the SEC. The institutional investor owned 51,238 shares of the company's stock at the end of the second quarter. Emerald Mutual Fund Advisers Trust owned 0.22% of Blue Bird Corporation worth $871,000 as of its most recent SEC filing.
Blue Bird Corporation (BLBD) traded down 1.99% during mid-day trading on Friday, hitting $17.20. The company's stock had a trading volume of 32,339 shares. Blue Bird Corporation has a 52-week low of $12.87 and a 52-week high of $19.60. The firm has a 50 day moving average of $17.44 and a 200-day moving average of $17.52. The firm has a market cap of $416.81 million, a price-to-earnings ratio of 19.66 and a beta of 1.76.
Blue Bird Corporation (NASDAQ:BLBD) last posted its earnings results on Thursday, August 3rd. The company reported $0.68 earnings per share for the quarter, beating the Thomson Reuters' consensus estimate of $0.58 by $0.10. The company had revenue of $332.60 million during the quarter, compared to analysts' expectations of $324.13 million. Blue Bird Corporation had a net margin of 2.60% and a negative return on equity of 19.49%. On average, equities research analysts expect that Blue Bird Corporation will post $1.15 EPS for the current fiscal year.
Blue Bird Corporation announced that its board has initiated a stock buyback program on Thursday, August 3rd that permits the company to repurchase $50.00 million in shares. This repurchase authorization permits the company to buy up to 11.9% of its stock through open market purchases. Stock repurchase programs are generally a sign that the company's management believes its shares are undervalued.
COPYRIGHT VIOLATION NOTICE: "Blue Bird Corporation (NASDAQ:BLBD) Position Maintained by Emerald Mutual Fund Advisers Trust" was originally posted by Stock Observer and is the property of of Stock Observer. If you are reading this report on another domain, it was copied illegally and republished in violation of US and international copyright & trademark legislation. The legal version of this report can be accessed at https://www.thestockobserver.com/2017/08/12/emerald-mutual-fund-advisers-trust-has-871000-position-in-blue-bird-corporation-nasdaqblbd-updated.html.
Several equities research analysts have recently commented on BLBD shares. Stifel Nicolaus raised their price target on Blue Bird Corporation from $20.00 to $22.00 and gave the stock a "buy" rating in a research report on Friday, May 12th. Roth Capital set a $22.00 target price on Blue Bird Corporation and gave the stock a "buy" rating in a report on Monday, August 7th.
In other Blue Bird Corporation news, Director Coliseum Capital Management, L sold 128,369 shares of the stock in a transaction on Tuesday, May 16th. The shares were sold at an average price of $18.80, for a total transaction of $2,413,337.20. The transaction was disclosed in a document filed with the Securities & Exchange Commission, which is accessible through the SEC website. Insiders have sold 380,049 shares of company stock valued at $6,945,147 over the last ninety days. 16.70% of the stock is currently owned by corporate insiders.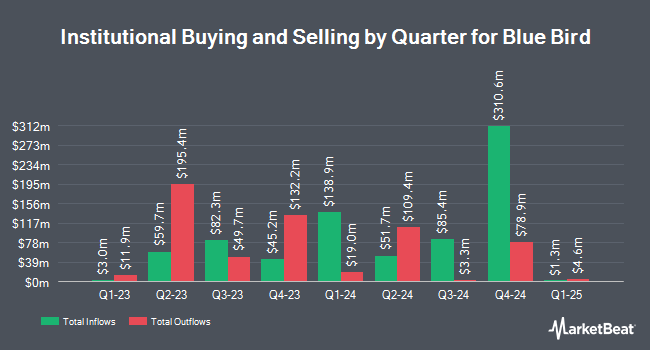 Receive News & Ratings for Blue Bird Corporation Daily - Enter your email address below to receive a concise daily summary of the latest news and analysts' ratings for Blue Bird Corporation and related companies with MarketBeat.com's FREE daily email newsletter.