Atrion Corporation (NASDAQ:ATRI) Chairman Emile A. Battat sold 1,217 shares of the firm's stock in a transaction on Friday, June 2nd. The stock was sold at an average price of $564.04, for a total value of $686,436.68. Following the completion of the sale, the chairman now directly owns 150,797 shares of the company's stock, valued at $85,055,539.88. The sale was disclosed in a document filed with the SEC, which can be accessed through this hyperlink.
Shares of Atrion Corporation (NASDAQ ATRI) traded down 0.75% during mid-day trading on Tuesday, hitting $571.50. The company's stock had a trading volume of 4,063 shares. Atrion Corporation has a 12-month low of $393.96 and a 12-month high of $589.40. The company has a market cap of $1.05 billion, a PE ratio of 34.70 and a beta of 0.92. The stock has a 50-day moving average of $547.67 and a 200-day moving average of $499.30.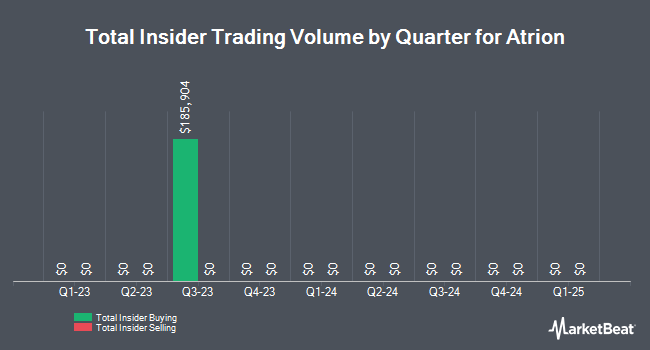 The firm also recently announced a quarterly dividend, which will be paid on Friday, June 30th. Stockholders of record on Thursday, June 15th will be given a $1.05 dividend. The ex-dividend date of this dividend is Tuesday, June 13th. This represents a $4.20 annualized dividend and a dividend yield of 0.73%. Atrion Corporation's dividend payout ratio (DPR) is presently 25.49%.
ILLEGAL ACTIVITY WARNING: This story was first posted by Stock Observer and is owned by of Stock Observer. If you are viewing this story on another website, it was copied illegally and reposted in violation of U.S. and international copyright law. The original version of this story can be read at https://www.thestockobserver.com/2017/06/20/atrion-co-atri-chairman-emile-a-battat-sells-1217-shares-updated-updated.html.
Atrion Corporation Company Profile
Atrion Corporation (Atrion) is engaged in developing and manufacturing products, primarily for medical applications. The Company's medical products range from fluid delivery devices to ophthalmic and cardiovascular products. Its fluid delivery products include valves that promote infection control and needle safety.
Receive News & Ratings for Atrion Corporation Daily - Enter your email address below to receive a concise daily summary of the latest news and analysts' ratings for Atrion Corporation and related companies with MarketBeat.com's FREE daily email newsletter.